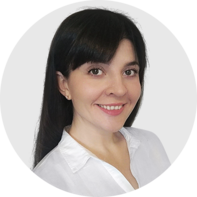 Olga Zhylinskaya, MD
Obstetrician-Gynecologist, Ultrasound Doctor
Work Experience: 12+ years' experience in obstetrics & gynaecology, 4 years' experience in ultrasound diagnostics
"My main professional goal is to help women to take care of their health. Every day I meet dozens of females, I teach them to listen to their bodies and to absorb the changes they may encounter."
Dr. Olga Zhylinskaya's clinical specialties include pregnancy planning, prenatal care, and pregnancy follow-up.
Besides practicing, she does research and follows the latest advancements and innovative solutions in the field of obstetrics and gynaecology. She attends thematic events, including national and international seminars, conferences, congresses, etc.
Education
MD from Grodno State Medical University
Internship in Obstetrics & Gynaecology from Mahilioŭ City Emergency Hospital
Ultrasound Doctor from Belarusian Medical Academy of Postgraduate Education
Passion and Motivation
Dr. Zhylinskaya takes a personal approach to each of her patients to cater to their specific needs and situations, and she values the doctor-patient relationships they build, both online and offline.
"My patients matter to me. They inspire and motivate me to move forward and develop professionally."