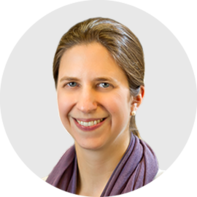 Patricia Kinser, PhD
Assistant dean of research, scholarship, and innovation, Virginia Commonwealth University, Virginia, US
Work Experience: 15+ years in nursing practice
"My clinical practice keeps me grounded in the realities of the high-quality health care women need. My students keep me flexible, and my research helps push for progress in women's health issues."
Career Highlights
Assistant Dean of Research, Scholarship, and Innovation at Virginia Commonwealth University, Richmond, VA, 2021–present
Professor at Virginia Commonwealth University, School of Nursing, 2012–present
Women's Health Nurse Practitioner at Health Brigade, Richmond, VA, 2007–present
Co-chair of the Perinatal Mental Health Research group at Virginia Commonwealth University's Institute for Women's Health, 2017–present
Governor-appointed member of the Board of Health for the Commonwealth of Virginia, 2017–present
Published 58 articles in peer-reviewed journals, four book chapters, and one book
Fellow of the American Academy of Nursing and active member of the Society of Behavioral Medicine, the Virginia Council of Nurse Practitioners, the Southern Nursing Research Society, the Marce Society, the Academy of Women's Health, and the American Academy of Nursing
Recipient of many awards, including an endowed professorship from Nursing Alumni Endowment, 2021; Excellence in Research Writing Award from the Journal of Holistic Nursing, 2019; Excellence in Nursing Research Award from Sigma Theta Tau, 2019; DAISY Faculty Award from VCU School of Nursing, 2016; and Distinguished Practitioner and Fellow from the National Academies of Practice, 2015
Frequent guest speaker about women's health issues and mindfulness-based interventions around the U.S. and worldwide
Board-certified Women's Health Nurse Practitioner
Education
PhD in Nursing Research from the University of Virginia, Charlottesville, VA
Master's degree in Women's Health Nurse Practitioner from Virginia Commonwealth University
Bachelor of Science in Nursing from Virginia Commonwealth University
Bachelor of Science in Biology, Neural and Behavioral Science, and Feminist and Gender Studies from Haverford College, PA
Featured Publications
"Mindful Moms: Motivation to Self-Manage Depression Symptoms." The American Journal of Maternal/Child Nursing, vol. 45, no. 4, Jul/Aug 2020, doi: 10.1097/NMC.0000000000000625
"Treatment Fidelity in Mind-Body Interventions." Journal of Holistic Nursing, vol. 37, no. 2, Jun 2019, doi: 10.1177/0898010118800573
"​​Physical Activity and Yoga-Based Approaches for Pregnancy-Related Low Back and Pelvic Pain." Journal of Obstetric, Gynecologic, & Neonatal Nursing, vol. 46, no. 3, May–June 2017, doi: 10.1016/j.jogn.2016.12.006
My Journey in Medicine
I entered the field as a women's health nurse practitioner because I wanted to provide high-quality, compassionate care to women. Through my experiences in clinical practice, I discovered the need for more research that would enhance the quality of care that we provide to women across their lifespan, which inspired me to become a researcher and a university professor.
My approach to care is holistic, with an emphasis on mindfulness and self-management. I've focused my research on the promotion of positive health behaviors and interventions for mental and physical wellness.
I have found that mindful physical activity is particularly helpful for women experiencing symptoms of depression (particularly for pregnant and postpartum mothers), and I am eager to contribute new knowledge to the topic through my studies. In my triple role as a professor, researcher, and clinician, I conduct high-impact research that can advance the overall health and wellness of women across their lifespan.
As I'm passionate about advancing women's health, I'm delighted to work alongside many talented practitioners who share this vision. I believe that Flo is a wonderful tool to help women take an active role in managing their well-being, and I appreciate that everything on the platform is evidence-based and backed by top experts in the field.
Flo Advisory Board of 100+ Doctors, Scientists, and Health Experts
We break down complex medical topics into accessible and digestible information that empowers readers to take action and prioritize their own well-being. Our team of Medical and Scientific Advisors is made up of over 100 certified health experts from a variety of disciplines who ensure that every piece of content we release is medically accurate, understandable, and up to date with the latest scientific findings. We rely on medical guidelines from international health organizations and get information from academic institutions and peer-reviewed articles, all of which is fully described in our Flo Editorial Process and Standards.