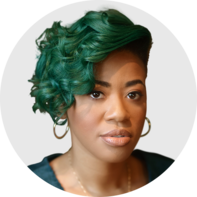 Rafaella Smith-Fiallo, MSW, LCSW
Relationship, sex, and trauma therapist and educator, Missouri, US
Work Experience: 15+ years in sexual health and sexuality education, 5+ years in mental health and wellness
"I believe that sex education is essential in harm reduction policy. It is my goal to create space for patients' self-exploration, reflection on relationship needs and patterns, and work toward living the life of satisfaction and pleasure that we all desire."
Career Highlights
Owner and psychotherapist at Healing Exchange LLC, MO/NV, US, 2018–present
Co-owner and sexuality educator, Afrosexology LLC, 2015–present
Member of the advisory committee of the sexual health and education specialization, Brown School of Social Work at Washington University in St. Louis, MO, US, 2018–present
Academic advisor for the sexual health and education specialization, Brown School of Social Work at Washington University in St. Louis, MO, US, 2017–2020
Member of the American Association of Sexuality Educators, Counselors, and Therapists; Association of Black Sexologists and Clinicians; International Association of Trauma Professionals; and National Association of Social Workers
Certified clinical trauma professional and sexuality educator
Education
Master's degree in social work and mental health from Washington University in St. Louis, MO, US
Postbaccalaureate certificate in advanced Spanish language and Hispanic cultural studies from the University of North Carolina at Greensboro, NC, US
Bachelor's degree in psychology with a minor in Spanish from North Carolina Agricultural and Technical State University, Greensboro, NC, US
My Journey in Therapy
I am excited to be a therapist who specializes in relationships, sex, and trauma therapy. I also feel proud to be a conduit for the care and support that I and many others needed during our own sexual exploration and healing as people who are queer, kinky, and trauma survivors.
I have received extensive education and training in sexuality education, couples therapy, trauma-informed care, and post-traumatic stress/trauma-related disorders and am committed to ongoing learning in my personal and professional life.
Over the years, I have worked with diverse populations, including school-age youth, at-risk youth in group homes, college students, military veterans, and adults in private practice. I've learned that no matter the age or circumstance, issues around mental and sexual wellness are always present or inquired about. Everyone encounters issues that overwhelm them at one time or another during life. However, not everyone receives the necessary education or tools that help them make the best choices regarding their health.
Sex-positive sex education decreases harm, reduces shame, emphasizes consent, honors autonomy, includes LGBTQIA+ communities, encourages individuality, affirms choice, centers pleasure, liberates, and saves lives. My role as a sex therapist and educator is to provide education that is sex positive, pleasure based, affirmative, grounded in science, and centered around justice.
We are all experts on our bodies and lived experiences. I value choice and advocate that we all have control over what happens in our lives. Flo provides tools to help people make informed decisions about their bodies and lives, and I'm honored to be part of that experience for millions of people.
Flo Advisory Board of 100+ Doctors, Scientists, and Health Experts
We break down complex medical topics into accessible and digestible information that empowers readers to take action and prioritize their own well-being. Our team of Medical and Scientific Advisors is made up of over 100 certified health experts from a variety of disciplines who ensure that every piece of content we release is medically accurate, understandable, and up to date with the latest scientific findings. We rely on medical guidelines from international health organizations and get information from academic institutions and peer-reviewed articles, all of which is fully described in our Flo Editorial Process and Standards.