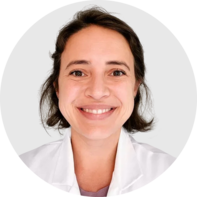 Dr. Sara Ritchie
Assistant professor of pediatrics, Medical University of South Carolina, South Carolina, US
Work Experience: 5+ years in pediatrics
"Being able to be informed and offer the best medical advice to families is a large driving force for me. I also enjoy contributing to the functionality of my clinic so that the patient experience is the best that it can be. I also love teaching. These things drive me in my work with medical students, residents, patients, their families, and my medical colleagues/staff."
Dr. Ritchie is an International Board Certified Lactation Consultant (IBCLC) and enjoys helping mothers and their newborns with breastfeeding issues.
She has clinical interests in breastfeeding medicine and treatment of ADHD.
Education
Dr. Ritchie got her medical degree and completed her residency at the Medical University of South Carolina.
Passion and Motivation
Dr. Ritchie loves working with children and their parents, and this is why she chose pediatrics. Watching kids grow and being such an honored part of their lives makes her happy.
Dr. Ritchie also enjoys working with the parents and teaching them various developmental milestones, encouraging families in their child-rearing journey, and offering reassurances.