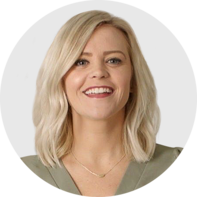 Shanna Hutcheson, RD
Registered dietitian and wellness coach, Cerner Corporation, Missouri, US
Work Experience: 5+ years in nutrition
"I am motivated to provide people with evidence-based, realistic nutrition advice that they can trust and easily apply to their lives. There are a lot of restrictive diets out there that are not health-promoting. As a dietitian, I want people to know that there are better ways to make changes to their lifestyles that are more sustainable, enjoyable, and better for them, both physically and mentally, over the long term."
Career Highlights
Wellness Coach at Cerner Corporation, Kansas City, MO, 2018–present
Wellness Blogger at Wellness for the Win, 2015–present
Registered Dietitian (RD) and Health Coach at Saint Luke's Health System, Kansas City, MO, 2015–2018
Licensed Dietitian (LD), Certified in Healthcare Compliance (CHC), Certified Corporate Wellness Coach
Member of the Academy of Nutrition and Dietetics
Education
Clinical Dietetics Internship at Saint Luke's Health System, Kansas City, MO, 2015
Bachelor of Science in Dietetics, Nutrition & Health with a minor in Kinesiology from Kansas State University, Manhattan, KS, 2015
My Journey in Nutrition
I chose to work in wellness/dietetics because I am passionate about helping others improve their overall health and well-being through nutrition, intentional movement, and self-care. My personal relationship with food and definition of health have transformed dramatically since I began my career as a dietitian. After years of counting calories and disordered eating, I discovered how to trust and respect my body through intuitive eating. Intuitive eating is a health-promoting form of nutrition through which you honor your body's needs and desires, instead of fighting them.
My approach to health and nutrition is balanced and mindful: I encourage people to eat a range of foods that make them feel nourished and satisfied. In my current role as a wellness coach, I have the opportunity to work with people of all ages, health statuses, and levels of nutrition knowledge. It is extremely rewarding to assist them in improving their health and making nutrition more of a priority in their daily lives.
Through my blog, Wellness For The Win and social media channels @wellnessforthewin, I share healthy, delicious recipes and information about intuitive eating and body kindness to a community of around 50K people.
At Flo, I enjoy contributing to content that helps our users along their journey towards self-love, body acceptance, and food freedom.
Fun Facts
Outside of my work, I love spending time with my husband, two young kids, and our dogs, traveling, and appreciating the outdoors.
Flo Advisory Board of 100+ Doctors, Scientists, and Health Experts
We break down complex medical topics into accessible and digestible information that empowers readers to take action and prioritize their own well-being. Our team of Medical and Scientific Advisors is made up of over 100 certified health experts from a variety of disciplines who ensure that every piece of content we release is medically accurate, understandable, and up-to-date with the latest scientific findings. We rely on medical guidelines from international health organizations and get information from academic institutions and peer-reviewed articles, which is fully described in our Flo Editorial Process and Standards.