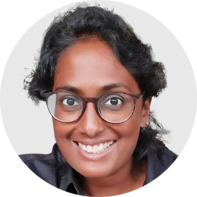 Dr. Thanusha Ananthakumar
General practitioner, National Health Service, UK
Work Experience: 5+ years in general practice, internal, and emergency medicine
"I have a keen interest in digital health as I believe it has aided in bringing patient assessments to the forefront of health care, and now is the time to focus on maintaining health and preventing disease."
Career Highlights
General practitioner (GP), cardiology specialist, National Health Service, Oxfordshire, UK, 2016–present
Clinical lead, Sensyne Health, Oxford, UK, 2019–2022
Health assessment GP, Nuffield Health, UK, 2018–2019
Clinical artificial intelligence fellow, Babylon, London, UK, 2019–2019
Five research papers published in peer-reviewed medical journals on obesity and emergency care
Education
Health research diploma from the University of Oxford, UK
MBBS from St. George's University of London, UK, 2007
Bachelor's degree from the University of Cambridge, UK, 2004
Featured Publications
"Clinical Encounters about Obesity: Systematic Review of Patients' Perspectives." Clinical Obesity, vol. 10, no. 1, 2020, doi: 10.1111/cob.12347.
"Impact of Point-of-Care Panel Tests in Ambulatory Care: A Systematic Review and Meta-Analysis." BMJ Open, vol. 10, no. 2, 2020, doi: 10.1136/bmjopen-2019-032132.
"Impact of Point-of-Care C Reactive Protein in Ambulatory Care: A Systematic Review and Meta-Analysis." BMJ Open, vol. 9, no. 1, 2019, doi: 10.1136/bmjopen-2018-025036.
"The Clinical Utility of Point-of-Care Tests for Influenza in Ambulatory Care: A Systematic Review and Meta-Analysis." Clinical Infectious Diseases, vol. 69, no. 1, 2019, pp. 24–33, doi: 10.1093/cid/ciy837.
"Similarity-Based Prediction of Ejection Fraction in Heart Failure Patients." Informatics in Medicine Unlocked, vol. 32, 2022, doi: 10.1016/j.imu.2022.101035.
My Journey in Medicine
I am currently working in general practice and have a keen interest in providing holistic care to all my patients. Primary prevention is a big passion of mine, and keeping people healthy and detecting diseases early is an important aspect of my job. I was drawn toward general practice because of my desire to treat the patient as a whole.
Medicine, research, and digital health are my biggest areas of interest. I have a varied background in research, from looking at patient interactions with doctors to researching the impact of point-of-care blood tests. In my first published paper, I conducted a systematic review of research on obese patients' interactions with clinicians and found that not only do they rarely discuss the topic of weight, but the encounters they have are largely negative and stigmatized.
In my practice, I strive to give my patients a positive feeling about themselves and encourage them to adopt healthy habits they can do day to day. My main driving factors in my work are the ability to improve patient care and make a real difference in people's lives.
I've always been very interested in digital health and have been working together with healthtech companies on the side of my clinical practice for the last several years. I'm so excited to collaborate with Flo as it gives me the opportunity to make an impact in the realm of women's health. Progressing women's health is a main goal of mine as a health care practitioner, and Flo allows me to do this on a global platform.
Fun Facts
My interests outside of medicine lie in sports, traveling, and keeping fit.
Flo Advisory Board of 100+ Doctors, Scientists, and Health Experts
We break down complex medical topics into accessible and digestible information that empowers readers to take action and prioritize their own well-being. Our team of Medical and Scientific Advisors is made up of over 100 certified health experts from a variety of disciplines who ensure that every piece of content we release is medically accurate, understandable, and up-to-date with the latest scientific findings. We rely on medical guidelines from international health organizations and get information from academic institutions and peer-reviewed articles, which is fully described in our Flo Editorial Process and Standards.