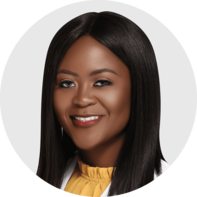 Dr. Tolulope Bakare
Urologist and assistant professor, University of Texas Southwestern Medical Center, Texas, US
Work Experience: 10+ years in urology and male infertility
"My favorite thing about specializing in male infertility is improving the quality of life of my patients and watching them become parents. I aim to have an open dialogue with my patients and the community to reduce the stigma surrounding male infertility, empower people with facts, and help them achieve their dream of building a family."
Career Highlights
Urologist and Assistant Professor in the department of urology at the University of Texas Southwestern Medical Center, TX, 2017–present
Several publications in peer-reviewed medical journals
Member of the American Urological Association, American Society for Reproductive Medicine, Society for the Study of Male Reproduction, and American Society of Anesthesiologists
Listed in D Magazine's Best Doctors in Collin County, 2021
Education
Fellowship in male infertility, andrology, men's health, and microsurgery at the University of Illinois, IL, 2016–2017
Residency in Urology at the University of Arkansas for Medical Sciences, AR, 2011–2016
Medical Degree from Pennsylvania State University College of Medicine, PA, 2011
Featured Publications
"The impact of race and gender on 30-day urologic surgery complications." Urology, vol. S0090-4295, no. 21, 23 May 2021, doi: 10.1016/j.urology.2021.05.023
"Disparities in pre-orchiectomy sperm cryopreservation among testicular cancer patients at a public safety net hospital and a private tertiary care center." Urology, vol. S0090-4295, no. 21, 31 Jul 2021, doi: 10.1016/j.urology.2021.05.097
"Simple nephrectomy in a tertiary care safety net hospital: Patient characteristics, causes, cost, and renal function implications." Urology, vol. 149, Mar 2021, doi: 10.1016/j.urology.2020.12.013
"Percutaneous management of upper tract urothelial carcinoma in a transplant kidney." Current Urology, vol. 8, no. 4, Dec 2015, doi: 10.1159/000442841
My Journey in Medicine
I decided to pursue urology and male infertility to significantly improve my patients' lives and help people build their families. It's such an honor to be a part of that process! I love seeing the baby pictures that I get from my patients, which constantly drives me to be the best doctor I can be.
I'm passionate about supporting people with fertility problems through education and personalized care. In my daily practice, I love helping my patients navigate common misconceptions surrounding fertility and answering their health questions. I have clinical expertise in fertility preservation, hypogonadism, vasectomies, and microsurgical vasectomy reversals.
Ever since completing my training in urology and male infertility, I have been a urologist at UT Southwestern, where I also teach courses to medical students and conduct cutting-edge research to advance knowledge in the field.
Infertility is a condition that can be difficult for patients to bring up with their doctors and for clinicians themselves to address. With compassionate care, I walk my patients through their options and help them create a strategy so they can achieve their goals of building a family. I also enjoy using my voice to educate the community and reduce taboos on the topic of male fertility.
At Flo, I review content related to sperm health and male fertility to help our many users who are trying to conceive. Through evidence-based content, I hope to make a positive impact on their lives and support them so they can have a successful pregnancy.
Flo Advisory Board of 100+ Doctors, Scientists, and Health Experts
We break down complex medical topics into accessible and digestible information that empowers readers to take action and prioritize their own well-being. Our team of Medical and Scientific Advisors is made up of over 100 certified health experts from a variety of disciplines who ensure that every piece of content we release is medically accurate, understandable, and up-to-date with the latest scientific findings. We rely on medical guidelines from international health organizations and get information from academic institutions and peer-reviewed articles, which is fully described in our Flo Editorial Process and Standards.