Seeing stains on your baby's teeth might worry you, or make you feel like you're not taking good enough care of your child. If you've suffered from tooth decay or had to wear braces growing up, you might be extra sensitive with wanting to make sure that your baby won't have to spend lots of time at the dentist.
Here are some of the main reasons your baby might have teeth stains:
Poor oral hygiene (like improper brushing) can cause a buildup of plaque on your baby's teeth, which can result in stains on their teeth
Giving your baby vitamins or mineral supplements that are high in iron can cause tooth discoloration
Taking the antibiotic tetracycline while pregnant or breastfeeding has been linked to babies having stained teeth
Weak enamel (the protective layer covering their teeth) due to a genetic disorder or other factors
Injury to one or more of the teeth or gums
The reason for your baby's stained teeth often determines the color of tooth discoloration you can expect to see. Find out which teeth stains are cause for concern, and which ones could just be part of their normal development.
Take a quiz
Find out what you can do with our Health Assistant
Black stains on baby teeth
A single dark-colored tooth could indicate that your baby's tooth is bleeding as a result of trauma or injury. Black stains on teeth could also be a sign of fluorosis, a condition caused by exposure to too much fluoride. If you see black stuff on your baby's teeth near the gums, it could indicate serious decay.
Speak with your baby's pediatrician if you spot black stains on your baby's teeth. He or she might refer you pediatric dentist, who can suggest a proper course of treatment.
Yellow stains on baby teeth
Yellow stains on your baby's teeth typically mean that they aren't being properly cleaned or brushed. The staining on kids with yellow teeth is caused by a buildup of plaque, which can cause tooth decay and cavities if left untreated.
If the stains on your baby's teeth are a green and yellowish hue, it could be a sign that they have hyperbilirubinemia. The condition — which they would've been born with — causes your child to have an excess of bilirubin in their blood. If your baby was born with jaundice, they might also develop teeth with a greenish tint.
Foods that can stain baby teeth
You can reduce the risk of your baby developing tooth discoloration by limiting certain kinds of foods in their diet. Some of the common foods that can stain baby teeth include:
Foods with dense color pigmentation, like blueberries, raspberries, blackberries, beets, and grapes
Candy and soda, which, due to their sugary nature, stick on the surface of your baby's teeth and become breeding grounds for cavity-causing bacteria
Tomato sauce, which is acidic and can weaken tooth enamel
If you do feed your child these foods that stain teeth, be sure to wipe their gums or rinse their teeth with water afterwards.
Thankfully, a review of scientific evidence concluded that breastfeeding your baby doesn't cause early childhood cavities. However, the risk of developing early childhood cavities does increase if you continue to breastfeed your child after the age of two.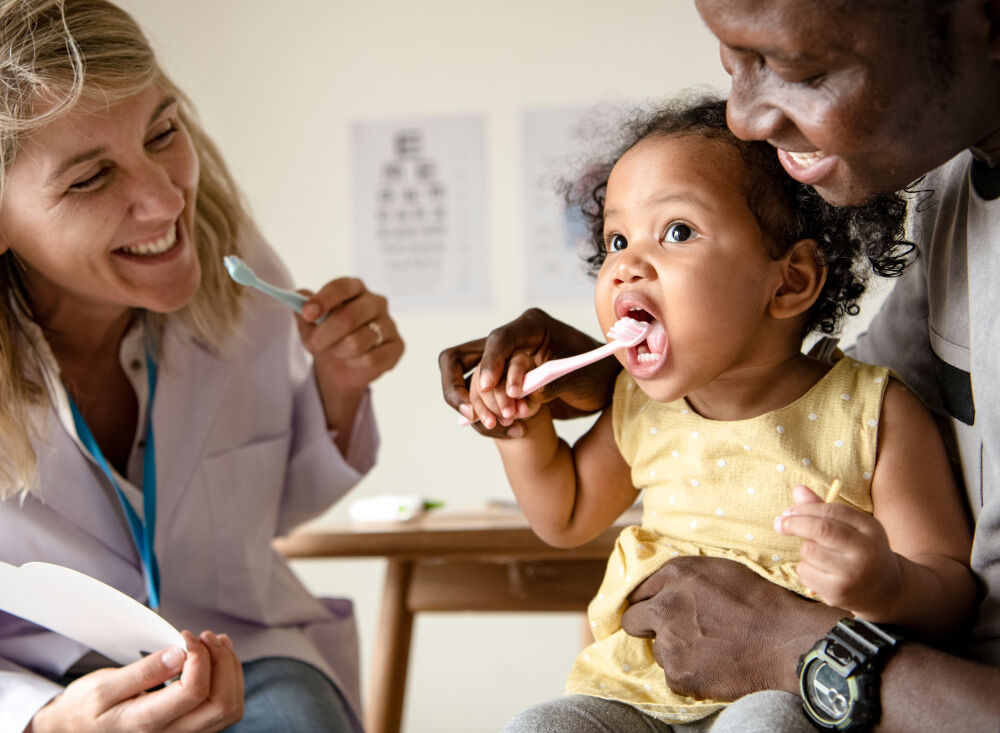 Removing tooth stains is usually best left to your baby's dentist. If the stains are yellow or newly visible, you may be able to lightly brush your baby's teeth to remove plaque from the enamel.
Although there are products to help adults with how to bleach teeth, there are no safe over-the-counter products that you can use to instantly remove stains from your baby's teeth. Leave the deep cleaning to professionals, who can advise if your baby's teeth need more intensive attention.
If you thought only adults have to worry about tooth discoloration and decay, think again. Now that you know how to get rid of teeth stains from your child's teeth, there are some steps you can take to prevent staining in the first place.
It's important that you begin a good oral hygiene routine with your baby as soon as their first teeth start to appear. Keeping your baby's teeth clean will reduce the risk of developing tooth discoloration as their teeth grow in.
From the age of six months, you can use a clean, soft cloth to gently wipe the surfaces of your baby's teeth and gums after feeding. From the age of 18 months, you can brush a tiny amount of non-fluoridated toothpaste — about the size of a single grain of rice — on their teeth and gums. Once your child learns to spit (around the age of 3), you can use a pea-sized amount of toothpaste in their brushing routine.
If your motherly instinct is in overdrive and you want to do everything you can to prevent your baby's teeth from staining or decay, here are a few tips you can keep in mind:
Give your baby either breastmilk or water as a way of keeping them hydrated. Sugary drinks like juice or soda can increase your baby's risk of developing discolored teeth.
Wipe the surfaces of your baby's teeth and gums after the first and last feedings of the day.
From the age of one, bring your child to the dentist at least annually so they can keep tabs on your baby's dental health and spot any issues before they become major problems.
Ask your baby's dentist about applying a fluoride varnish as soon as your baby's first teeth appear.
Speak with your pediatrician or pediatric dentist if you have concerns about tooth discoloration on your baby's teeth.