Are baby blankets safe?
From a safety perspective, professionals recommend waiting at least 18 months to introduce a baby blanket. At this age, your child is equipped with the motor skills to pull their blanket off if they become tangled in it.
Why baby blankets don't belong in a crib
Unlike grown-ups, your newborn can easily survive without a pile of fluffy bedding and accessories.
There are two primary concerns when it comes to putting baby blankets in their crib. First, it increases their chances for suffocation and sudden infant death syndrome (SIDS) – the sudden, unexpected, and unexplained death of a healthy child under the age of 1. It's the leading cause of infant mortality between 1-month-olds and 1-year-olds.
Second, if your baby becomes entangled while standing, it can lead to falls, bruises, and other injuries.
How to keep your baby warm without a baby blanket
What's the best way to ensure your bundle of joy stays warm even in the coldest of weather? One-piece footed sleepers offer warmth and comfort; plus, you won't have to tuck them back in again every 5 minutes! They also restrict your infant's mobility and discourage them from climbing out of the crib.
Another alternative is the wearable blanket, which zips up in front and can be worn over a bodysuit or baby tee. The fact that they're sleeveless means your child will still be able to move their arms.
Lastly, protect them from chilly winters by placing a heating pad or hot water (in a bottle or microwaveable bag) into the crib. Be sure to remove all items before putting a tired baby down for the night.
When can baby blankets be used?
Experts agree that you should delay buying baby blankets until your child's halfway through their second year. Start with a lightweight piece, in addition to a sleep sack. At this age, they won't move around quite as much and will actually enjoy being underneath a blanket.
How to choose the right baby blanket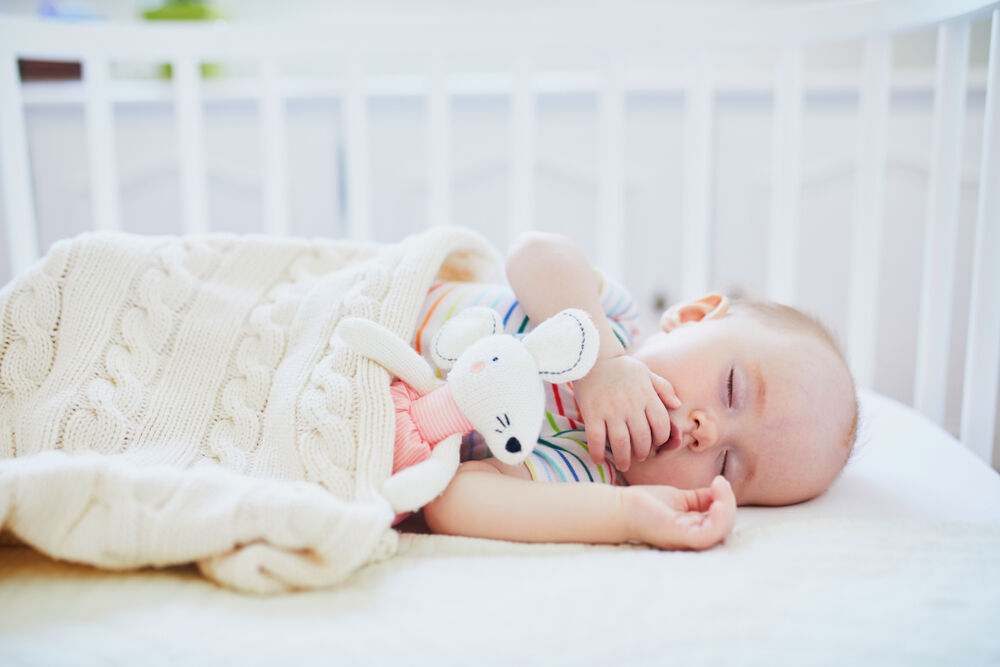 Comfort and security should be your number one priorities. Here are a few tips that'll come in handy when you're out shopping for a baby blanket.
Pay attention to the fabric: It should feel soft to the touch and gentle enough for your little one's delicate skin. Stay away from synthetics and opt for high-quality, breathable, cotton-based materials which will provide a great night's sleep.
Factor in your climate: If you live in an area where the weather varies greatly by season, you're going to need more than one baby blanket. Lightweight fabrics are perfect during the summer, whereas thicker, cozier fabrics are ideal for winter.
Keep safety in mind: Safety is absolutely critical. Always avoid products containing tiny details and decorations such as ribbons, fringe, or tassels which could get tangled or present a choking hazard.
Choose the right size: Size matters. A baby blanket that's too small won't keep them warm at night, while one that's too big might feel a little overwhelming to your child.
We've all seen adventurous infants using their blankets for teething, or even to escape from their cribs. To prevent this and other more serious problems, steer clear of baby blankets until they're at least 18 months old. For more info, consult your pediatrician.