The key to throwing a fantastic 1st birthday party is choosing a meaningful theme. Think about the kinds of activities you enjoy together, your baby's likes and dislikes, or their favorite toys and cartoon characters. Spark your imagination and creativity in the following ways:
Plan the party around their most cherished toy. For example, if it's a stuffed giraffe, consider a safari theme. A beloved bathtub toy might produce a nautical theme, or a mini train set could be the centerpiece of a planes, trains, and automobiles theme.
Look to the stars (literally) for an astronomically-themed first birthday. Use decorations featuring the moon, stars, and planets to host a party that's out-of-this-world!
Bring a classic children's book, TV show, or song to life. From a "Teddy Bears' Picnic" to an "Alice in Wonderland" tea party, there are countless ways to create a bit of childhood magic and nostalgia for your guests.
Embrace the elements by picking a seasonal theme. For example, if your little one's birthday falls in July, plan a tropical or beach-themed summer bash and ask everyone to dress accordingly.
Whichever theme you opt for, try to incorporate its elements into your food, décor, and of course, your baby's birthday cake. Be careful not to go overboard, however, to ensure it remains a fun, stress-free event.
First birthday invitations
You know that a room full of noisy strangers could overwhelm your tiny guest of honor, causing them to get fussy or cranky. That's why it's best to keep the guest list for their 1st birthday party small.
It's not necessary to include everyone who attended your baby shower and equipped you with all those newborn baby essentials. They may just feel obligated to spend even more money on your child's first birthday present. This also isn't the time or place to invite every kid in the neighborhood to your backyard.
So who should make the cut? Grandma and grandpa, who always answer your late night phone calls about baby feeding. Your closest girlfriends, who thoughtfully stop by with coffee and treats for the new mom. The rest of the guest list is up to you.
Lastly, remember to schedule the party for a time that doesn't interfere with your little one's naps.
Ready, set, click! First birthday parties are a prime time for capturing their cutest moments. Get them camera-ready with these suggestions on the perfect birthday outfit.
First birthday outfit for boys
Your little fella will look handsome in:
a sweet clip-on bowtie
a dapper, collared shirt
stylish trousers
First birthday outfit for girls
Your little girl will look beautiful in:
a colorful dress that matches the party theme
a sequined headband or sparkly barrette
a graphic tee paired with pants or a skirt
Hoping to keep it simple? Then dress them in their usual clothing and top it off with a "birthday boy" or "birthday girl" button.
Whether they're sporting a tie or a tutu, make sure they're comfortable. Itchy, sweaty clothing is likely to cause a mini-meltdown later in the day. One last tip from the pros: take your baby's photo before all the guests have arrived so you can swap outfits, if necessary.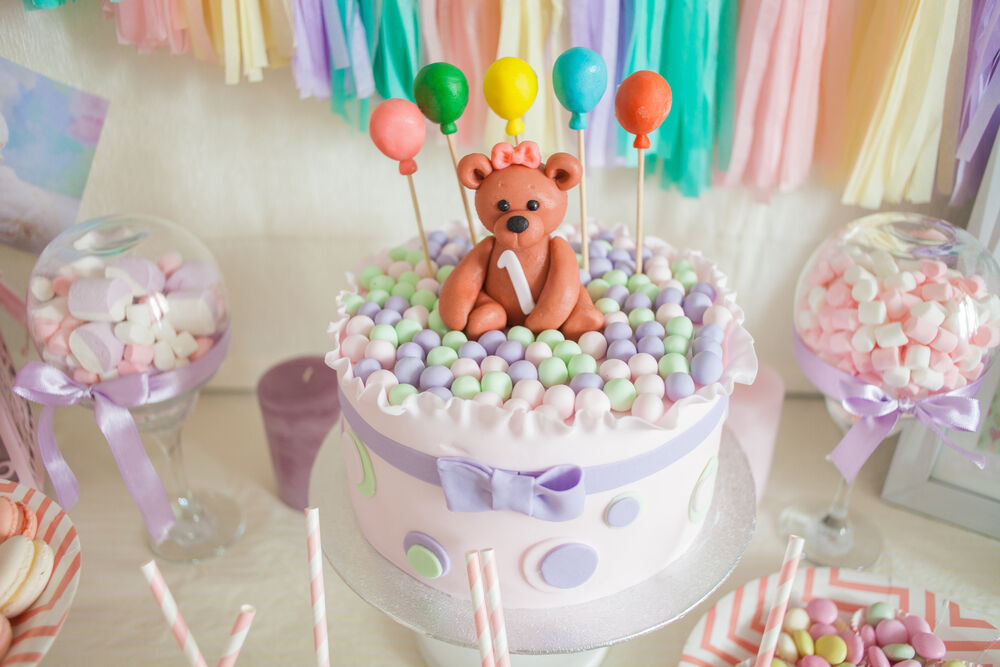 What's a birthday bash without delicious, kid-friendly food? Here are a few tips for putting together a winning party spread:
Opt for easy-to-eat snacks like cheese and crackers, tea sandwiches, chips and dip, sliced fruits and veggies. Be mindful of potential choking hazards if there are a lot of kids in attendance.
Offer multiple drink options including juice, water, coffee, and tea. If you're serving alcohol for the adults, remember which punch bowl's been spiked!
A first birthday wouldn't be a celebration without a showstopping cake. No need to limit yourself to a standard sheet cake, though. Consider serving cupcakes, cake pops, or other crowd-pleasing favorites.
Always consult with your guests while planning the menu on any allergies or dietary restrictions they may have.
What should your 1-year-old be munching on that day? Allow a supervised snack time with foods that you know they'll like. To take an extra load off, you can always feed them before the party even starts.
Remember playing wacky baby shower games with your guests last year? Recreate the fun at your baby's 1st birthday.
Grown-ups might enjoy icebreaker exercises or a guessing game. Hang photos of your child from the past year and ask them to guess when each photo was taken.
Kids, on the other hand, are easily entertained with sing-alongs, dancing, and games of peek-a-boo. Simple toys such as building blocks and stuffed animals should also be kept on hand. Remember to leave a clear and dedicated space for them to enjoy playtime.
To lower stress levels, don't be afraid to ask for help and avoid overwhelming yourself with trivial details. Your baby's 1st birthday is a time to celebrate the milestones you've both achieved in the past year. Get creative and make the most of this extra special day!