For most babies, teething begins between 5 and 8 months of age. Some, of course, begin a few weeks or months earlier, while others start teething much later. Early teethers might start sprouting the first tooth at 3 months, while late teethers may not begin until 10 months or so.
The answer to "When do babies start teething?" might also depend on genetics, as the age teething starts seems to run in families. Siblings or parents who were early or late teethers may give a clue as to when teething might begin for a particular baby. In addition, babies born prematurely may start teething later than the average for their age.
Parents sometimes notice symptoms of teething before they actually see teeth poking through the gums. Teething symptoms may show up a few days before the tooth appears. Some common symptoms of teething include:
Drooling
Restless sleep
Fussiness that comes and goes instead of being continual
Refusal to eat
Chewing on the hands or other objects
A mild rash around the mouth caused by drool
Rubbing the ears or cheeks when the molars are erupting
Babies who are teething don't typically have a fever, diarrhea, coughing, vomiting, rashes on the body, or excess fussiness for long periods of time. Parents shouldn't consider these signs an indication that the teeth are coming in. Some babies might have a mild fever when teething starts, but it won't be above 101 degrees Fahrenheit. Any fever that high indicates another illness.
Not all babies have symptoms during teething. Some infants breeze through the process without becoming fussy at all. Most have at least a small amount of crankiness or exhibit chewing behaviors associated with teething, though. You might also be able to see swelling or a slight blister that appears on the gums before the tooth actually pops through.
Because the earliest symptoms of teething can be subtle, new moms who are distracted by other concerns or moms with insomnia might not notice until the teeth appear. Knowing the timeline for typical tooth eruption helps you know when to expect teething symptoms to appear.
Once those first teeth start breaking through the gums, the entire teething process lasts about 1.5 years. The baby teeth, also known as primary teeth, tend to come out in pairs, starting when the infant is around 6 months old and continuing until the child is around 24 months old.
Most babies get their two bottom middle teeth first, then the matching top two teeth a couple of months later. Some babies have their own patterns, though, so it's perfectly normal if your infant already has three or four teeth at the top or bottom before the others start coming in. If you don't see any teeth at all by the age of about 15 months, check with your child's pediatrician or a pediatric dentist to make sure no problems exist.
The baby teething chart below can help you anticipate which teeth are coming in next.
6 months: lower central incisors
8 months: upper central incisors
10 months: upper and lower lateral incisors
14 months: first molars
18 months: canine teeth
Between 20 and 30 months: second molars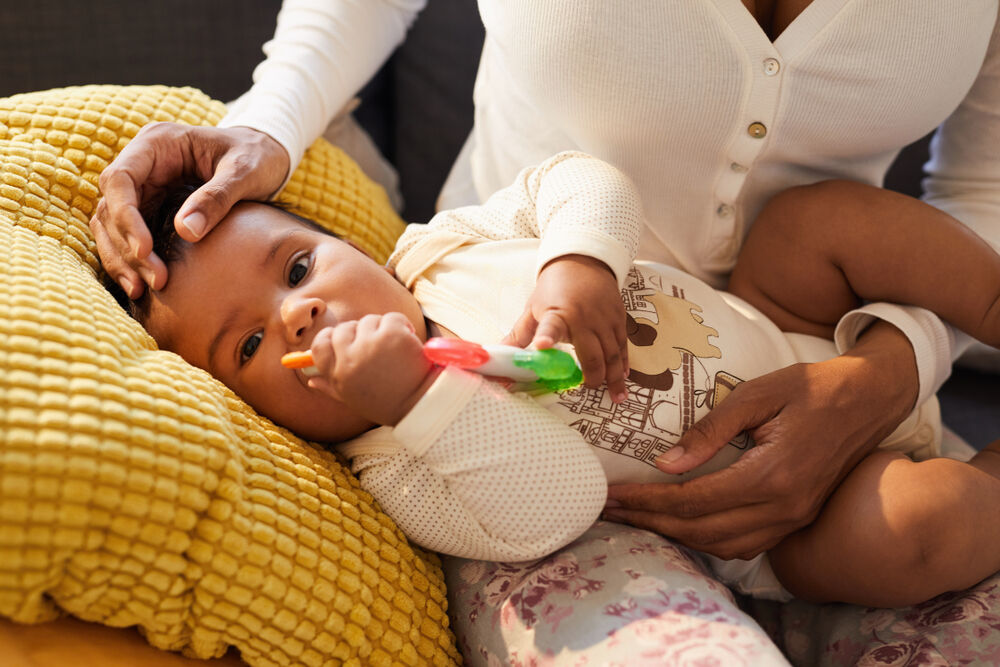 Knowing the answer to the question "When do babies start teething?" gives you a head start on helping your infant get through the process smoothly. The process itself can be stressful, though.
When your baby is young, there are a lot of things demanding your attention. Issues such as postpartum depression can make it difficult to pay attention to subtle signs of teething or other physical baby milestones. You might be preoccupied with weight loss after pregnancy or dealing with postpartum birth control. Having a clear idea of how to help your child gives you a plan of action to deal with teething.
Taking care of yourself is the first step to helping your child get through teething. Moms and dads with postpartum depression or excess stress after the birth might also feel overwhelmed by the fussiness of teething. Just remember that your baby is feeling uncomfortable and that any fussiness is simply their way of letting you know. It might also help to know that babies often adapt to teething after the first few teeth are out and may not be as fussy for later teeth.
Your baby is likely to try putting objects in their mouth to ease the pain and discomfort of teething. Pressure on the gums relieves the soreness. You can press gently on your child's gums to help.
Providing teething rings or a small towel gives your baby something safe to chew on. You can chill these objects beforehand to make them feel even better on your baby's sensitive gums. The cold has a numbing effect that reduces pain. Be careful not to leave ice or frozen objects on your baby's gums for too long because this could cause tissue damage. Slightly chilled teething rings are better than frozen ones.
If your teething infant is refusing food because of the discomfort, you might try different bottle nipples to see if any are more comfortable. Distractions can also help during teething. Your child might want extra cuddling sessions or might want to breastfeed more often during teething as a way to self-comfort.
Medicines aren't generally recommended for teething. Oral medications with benzocaine, including rub-on gels, could be dangerous for babies. If your baby is experiencing a lot of pain during teething, your doctor might recommend ibuprofen or acetaminophen if the infant is over 6 months old.
Don't use alcohol on a baby's gums to ease teething pain, and avoid feeding your child hard or frozen objects, such as hard crackers or frozen banana chunks, during teething. These hard foods could break apart and become a choking hazard.
Now that you know the answer to the question "When do babies start teething?" you are prepared for this exciting milestone. Soon, your infant can start exploring foods that weren't possible before their teeth came in.