The roots of Freud's dream analysis
Freud's dream theory is rooted in the idea that we all need a way to express or vicariously fulfill all of our wishes and desires.
Like his theory of personality development, Freud's dream theory is centered around the id. Freud described the id as the representation of the subconscious. It holds all infantile or impulsive behavior. It is the irrational, primitive, and instinctual part of the personality. Freud believed the id, with its repressed or unwanted desires (including sexual), was able to express itself in dreams.
Freudian dream theory is also rooted in sex, as is all of Freud's work. He believed that we need a way to express unfulfilled sexual desires or wishes. This is why most of Freud's dream symbolism is sexual in nature. Also, unlike cognitive dream theory (which says dreams are simply random thoughts strung together), everything in Freudian dream interpretation has some meaning.
Freud's dream theory in short
Freudian dream theory can be complex, but a basic overview can be easy to understand. It could also offer you inspiration for interpreting your own dreams.
Freud believed that the unconscious (id) expresses itself in dreams as a way of resolving repressed or unwanted emotions, experiences, and aggressive impulses.
There are a number of assumptions that Sigmund Freud used to construct his dream theory. The most significant include:
Dreams are short. Freud believed dreams are short, like fireworks. He also thought they were most likely to appear just before waking.
Dreams are about the past day's events. Freud felt that events that had occurred during the day always appeared in dreams that night.
Dreams are wish fulfillments. Freud's most well-known theory, wish fulfillment, is the idea that when wishes can't or won't be fulfilled in our waking lives, they are carried out in dreams. Even anxious or punishing dreams have their roots in wish fulfillment, according to Freud.
Dreams are fleeting. Freud believed most people forget the majority of their dreams.
Dreams contain a ton of sexual symbols. Freud created a long list of the many sexual symbols dreams may contain. He believed the number three, for example, is a symbol for the penis, as are elongated objects such as umbrellas, trees, sticks, and tall monuments. Freud thought that objects that can cause harm, such as guns, swords, and knives, could also be seen as phallic symbols. Even animals, including reptiles such as snakes, can serve as stand-ins for the male genitalia in Freudian dream theory. Female genitalia, on the other hand, are represented by objects containing space to be filled. Trunks, shoes, pits, caves, and the mouth are a few examples. Freud categorized certain fruits, such as apples and pears, as representing breasts, while paper or wooden objects were thought to symbolize women as a whole.
Dreams should be analyzed by a therapist. Freud believed that therapy is very helpful in helping people overcome all manner of difficulties, including troubling dreams. He also believed that the analyst, not the patient, held the key to truly understanding dream images and symbols.
Why Freud's dream theory is criticized
Psychoanalytic dream theory is widely criticized because many of Freud's theories have been found to be incorrect. Furthermore, common sense tells us that dreams are not solely about the subconscious. They may be more innocent and insignificant than Freud had assumed.
As Freud himself said, "Sometimes a cigar is just a cigar." Not all dreams are a manifestation of the unconscious. Some are just a form of imaginative play and are free from any unfulfilled desires.
Another criticism of Freud's dream theory is that it is based on a clinical population. That is, Freud developed his theories based only on his analysis of patients who were struggling with serious psychological issues. Many psychologists agree that drawing conclusions for the general population based on that type of research is faulty by nature.
Not all dreams are a manifestation of the unconscious. Some are just a form of imaginative play and are free from any unfulfilled desires.
In general, most experts agree that Freudian dream theory may have some merit but cannot be applied to every single dream.
There are also other dream theories. According to Carl Jung, some dreams are a sign of the collective unconscious, primitive signals still speaking to us in our modern-day world. And according to Alfred Adler, dreams are important tools in helping us master our everyday lives. Although Freud believed dreams only refer to the past, Jung believed they alluded to the present and Adler, the future.
Is Freud's dream theory correct?
Lots of research has revealed the inaccuracies of much of the Freudian dream theory. At the same time, one important aspect of Freud's theory remains true.
Many of Freud's theories have been tested and been found incorrect. For example, dreams are not short, as he supposed, but longer and more frequent. And despite his assertion that all dreams contain residue of that day's events, several studies have shown this to be true for only roughly half of all dreams. In one of the biggest discrepancies, Freud's claim that every dream is a wish fulfillment also misses the mark. Studies on children's dreams have shown a large number of dreams are much more bland or insignificant.
In general, Freud used primarily anecdotal evidence to craft his theories, and he also extrapolated dream behavior from one group to another. For example, although most of his patients were adults, he developed several theories about child development.
His most general claim, that dreams are the "guardians of sleep" that arise to control nighttime bodily urges, has been proven wrong as well. A study of the sleep process revealed that dreams cannot be the primary way to deal with bodily urges. What's more, not everyone dreams, making the idea that they are guardians of sleep implausible.
Benefits of analyzing your dreams
Despite many of its failings, the Freudian dream theory is still sometimes considered a viable option for dream interpretation. It offers a method for analyzing your dreams, which has some personal benefits as well.
Freud's main idea, that our dreams satisfy our unfulfilled desires, can be an interesting way to understand dreams. Although analyzing dreams takes some commitment (beginning with writing dreams down when you first awake), it also brings benefits. When you better understand your dreams, you could pick up on meaningful information about your daily life. This includes your anxieties, stresses, and conflicts. What's more, you may begin to find meaning in your dreams. In addition, analyzing your dreams can help you solve problems or conflicts you might be facing.
Although analyzing dreams takes some commitment, it also brings benefits. When you better understand your dreams, you could pick up on meaningful information about your daily life.
In general, being more aware of negative or unwanted thoughts has its own set of health benefits. Research has found that people who don't suppress their feelings or thoughts during the day have better sleep and fewer dreams about suppressed thoughts. They also have less stress and anxiety and are less susceptible to mental health problems. All these benefits suggest that identifying and releasing suppressed thoughts is beneficial to your health.
How to remember your dreams
From drinking extra water to repeating phrases, there are several techniques that can help you recall your dreams more easily. Just don't forget the notebook and pen.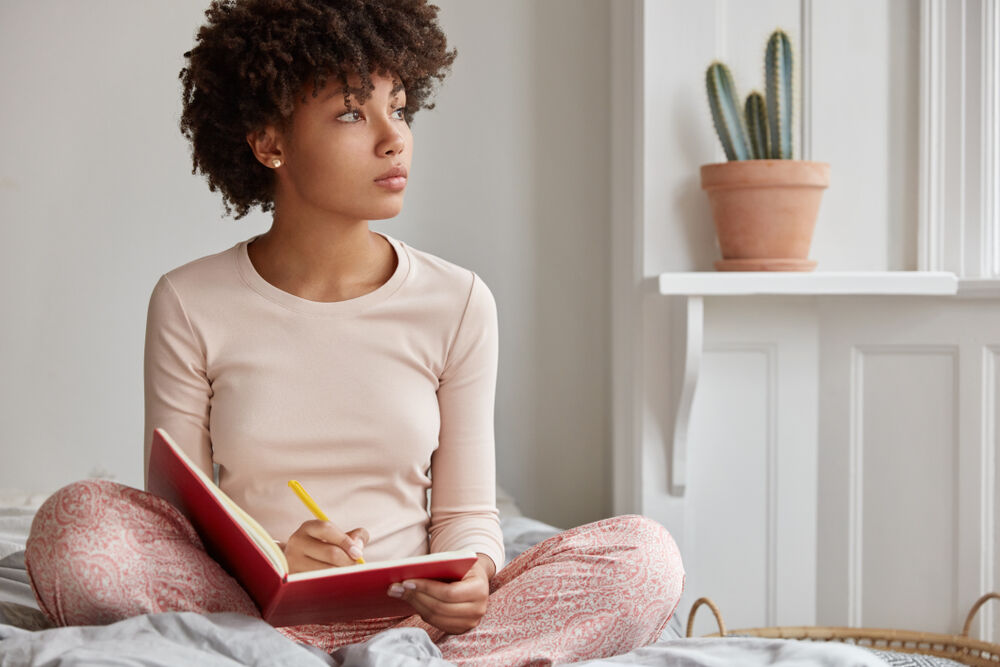 Because dream recall is stronger when you wake up in the middle of the night, sometimes practitioners recommend drinking extra water (two to three glasses) right before bedtime. This might help you remember your middle-of-the-night dreams more easily. You might also recall brief dreams, like the kind you get when first falling asleep. You can try repeating the phrase "I'm going to remember my dreams" three times before drifting off as a kind of reminder to your brain to recall your dreams.
When you do wake up, don't move, talk, or make any other motion. Instead, do your best to recall the dream by going over each moment in your mind. Researchers suggest staying still for at least a few minutes, giving yourself time to sink back into the dream and gather as much information as you can. Then, write it down. Try doing this (along with the repeated phrase) for two weeks to help better remember your dreams.
The takeaway
Dream interpretation, Freudian or not, can be an interesting tool to help you better understand yourself. When taken in the context of more than a century of additional research, Freud's dream theory can offer an additional way of regarding our subconscious. It suggests that our dreams express our subconscious, and by studying them, we might be able to better understand ourselves and how we engage with the world at large.