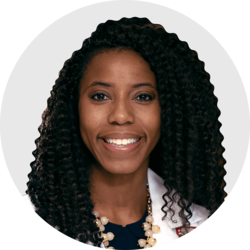 Amanda Adeleye, MD
Assistant Professor of Obstetrics and Gynecology, Section of Reproductive Endocrinology and Infertility, University of Chicago, IL, USA
Work Experience: 8+ years' experience in obstetrics, gynecology, and reproductive endocrinology
"I've always had a love of science, and reproductive endocrinology is full of cutting-edge scientific advancements. Reproductive endocrinology is a perfect blend of clinical care, procedures, and science, and at the end of the day I don't just make patients feel better — I get to make them really happy!"
Amanda Adeleye, MD, FACOG, is an enthusiastic doctor who is committed to providing personalized and evidence-based care to all her patients. Her desire is to improve educational resources and make them available to all patients.
Education and professional experience
Dr. Amanda Adeleye's educational background and training include:
Medical education at Columbia University College of Physicians and Surgeons
Internship at New York-Presbyterian Hospital/Columbia University Irving Medical Center
Residency at Columbia University Medical Center, New York Presbyterian Hospital
Fellowship at University of California San Francisco Health
Dr. Adeleye is a fellow of the American Congress of Obstetricians and Gynecologists (FACOG).
She is a member of the American Society of Reproductive Medicine and the Society for Reproductive Endocrinology and Infertility.
She has served as a reviewer for several medical journals, including:
The Journal of Assisted Reproduction and Genetics
Fertility and Sterility Reports
Journal of Sexual Medicine
Human Reproduction Update
Research focus
Additionally, as an academic clinician, she is devoted to using research to eliminate fertility-related health care disparities.
Dr. Adeleye's research interests include increasing access to care and education for the LGBTQ community and the underserved.
"The ability to help my patients build healthy and happy families is my main motivation. I'll do whatever I can to bring my patients closer to that goal, whether it's going the extra mile with treatment, research, education, or advocacy."