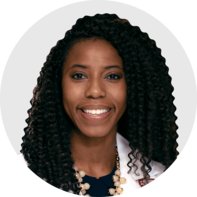 Dr. Amanda Adeleye
Assistant professor of obstetrics and gynecology, section of reproductive endocrinology and infertility, University of Chicago, Illinois, US
Work Experience: 10+ years in obstetrics, gynecology, and reproductive endocrinology
"The ability to help my patients build healthy and happy families is my main motivation. I'll do whatever I can to bring my patients closer to that goal, whether it's going the extra mile with treatment, research, education, or advocacy."
Career Highlights
Authored nine peer-reviewed publications on fertility and transgender health care
Fellow of the American Congress of Obstetricians and Gynecologists (FACOG)
Member of the American Society of Reproductive Endocrinology and Infertility
Presented her research at the 75th American Society for Reproductive Medicine Scientific Congress & Expo, 2019
Served as a reviewer for several medical journals, including The Journal of Assisted Reproduction and Genetics, Fertility and Sterility Reports, Journal of Sexual Medicine, and Human Reproduction Update
American Society for Clinical Oncology (ASCO) Medical Student Award Recipient, 2009
Education
Degree in Medicine from Columbia University College of Physicians and Surgeons
Internship at NewYork-Presbyterian Hospital/Columbia University Irving Medical Center
Residency at Columbia University Medical Center, NewYork-Presbyterian Hospital
Fellowship at University of California San Francisco Health
Publications
"Considering race in the administration of fertility preservation. A commentary on: 'Equal opportunity for all? An analysis of race and ethnicity in fertility preservation in a major American city.'" The Journal of Assisted Reproduction and Genetics, vol. 37, no. 12, Dec. 2020, pp. 3015-2016, doi: 10.1007/s10815-020-01979-0
"Differences in perceived stress during ovarian stimulation between women with infertility and those pursuing oocyte cryopreservation." Fertility Sterility, vol. 114, no. 5, 18 Aug 2020, pp. 1076-1084, doi: 10.1016/j.fertnstert.2020.05.025
"Care of Transgender Persons." New England Journal of Medicine, vol. 382, no. 15, 09 Apr 2020, pp. 1481-1482, doi: 10.1056/NEJMc2000825.
"Ovarian stimulation for fertility preservation or family building in a cohort of transgender men." The Journal of Assisted Reproduction and Genetics, vol. 36, no. 10, Oct 2019, pp. 2155-2161, doi: 10.1007/s10815-019-01558-y
"Quality of life after fertility preservation among transgender people." Fertility and Sterility, vol. 112, no. 3, 01 Sept 2019, doi: 0.1016/j.fertnstert.2019.07.1028
My Journey in Medicine
My area of medical expertise lies in reproductive medicine and infertility treatment, including in vitro fertilization (IVF), intrauterine insemination (IUI), and fertility preservation (egg and sperm freezing). I've always had a love of science, and reproductive endocrinology is the perfect blend of clinical care, procedures, and scientific advancements. I do everything in my power to help women with hormonal and reproductive conditions build a family, if that's their goal. At the end of the day, I don't just make patients feel better; I get to make them really happy — which is incredibly rewarding!
I'm particularly interested in research that can move us past certain healthcare disparities, especially when it comes to access to fertility care for the LGBTQ community. Transgender people face many barriers to health care due to gender discrimination and a lack of providers who know enough about caring for these individuals. I aim to help change that through my research studies and teachings at the University of Chicago so that a new generation of doctors can provide the highest quality of care for all types of patients.
No two people are the same, so each time a patient comes to see me, I strive to listen with compassion to their concerns and adopt a personalized and evidence-based approach to their care. I'm also committed to developing and improving educational resources available for patients to help guide and support them throughout their entire fertility journey.
Flo Advisory Board of 100+ Doctors, Scientists, and Health Experts
We break down complex medical topics into accessible and digestible information that empowers readers to take action and prioritize their own well-being. Our team of Medical and Scientific Advisors is made up of over 100 certified health experts from a variety of disciplines who ensure that every piece of content we release is medically accurate, understandable, and up-to-date with the latest scientific findings. We rely on medical guidelines from international health organizations and get information from academic institutions and peer-reviewed articles, which is fully described in our Flo Editorial Process and Standards.