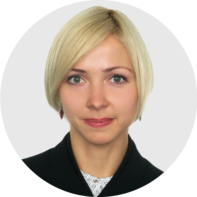 Dr. Anastasiya Lagutina
Yoga teacher, assistant professor in clinical anatomy, Charles University, Czech Republic
Work Experience: 5+ years in clinical anatomy, 10+ years in yoga and meditation
"The human brain, consciousness, and behavior have been my greatest passions for the last 15 years. I am happy to share my knowledge and experience in practicing and teaching yoga to serve women's health all over the world."
Career Highlights
Assistant Professor of Clinical Anatomy, Charles University, Prague, Czech Republic, 2020–present
Lecturer at Charles University, Third Medical Faculty, 2018–2020
Mentor of the Working with Stress course for medical students at Charles University, Prague, Czech Republic
Lecturer at Belarusian State Medical University, Minsk, Belarus, 2015–2017
Certified in bodynamic therapy, somatic therapy, and mindfulness-based stress reduction therapy; expertise in hypnotherapy
Instructor of yoga and meditation
Education
PhD in neuroscience from Charles University, Prague, Czech Republic, 2022
Medical Degree from Belarusian State Medical University, Minsk, Belarus, 2015
Featured Publication
"Easy identification of optimal coronal slice on brain magnetic resonance imaging to measure hippocampal area in Alzheimer's disease patients." BioMed Research International, vol. 1, 2020, doi: 10.1155/2020/5894021
My Journey in Medicine
The desire for a deeper understanding of the human brain and body has been a main driving force in my professional life. Ever since I completed my medical degree, I have been exploring this topic with the doctors of tomorrow as an instructor of clinical anatomy at Belarusian State Medical University and now at Charles University in Prague, where I am completing my PhD.
I'm also very interested in the possibility of establishing a connection between Western neuroscience and ancient Eastern techniques, such as yoga and meditation. For over a decade, I have taught mindfulness and various forms of mind–body therapy to members of the community.
My academic research has focused on the neurovizualization of differences in the brain makeup between schizophrenia and Alzheimer's patients and healthy ones on MRI.
I'm excited to be here as a part of Flo's medical board to share my knowledge about reducing stress and improving overall health through the practice of yoga and meditation. By honoring the connection between our physical and mental states, we learn to better tune in to the signals our bodies are sending us and enhance our well-being.
Flo Advisory Board of 100+ Doctors, Scientists, and Health Experts
We break down complex medical topics into accessible and digestible information that empowers readers to take action and prioritize their own well-being. Our team of Medical and Scientific Advisors is made up of over 100 certified health experts from a variety of disciplines who ensure that every piece of content we release is medically accurate, understandable, and up-to-date with the latest scientific findings. We rely on medical guidelines from international health organizations and get information from academic institutions and peer-reviewed articles, which is fully described in our Flo Editorial Process and Standards.