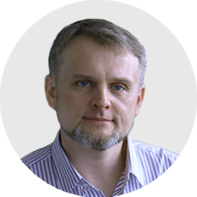 Andrej Vitushka, MD, PhD
Neonatal Intensive Care Specialists, Medical Consultant at Flo
Work Experience: 18+ years in Neonatology
Dr. Vitushka gained a strong academic background in Pediatrics, Neonatology, and Intensive Care.
He works at the Neonatal Intensive Care Nursery of the maternity hospital, caring for newborns in critical health, mentoring young doctors, and teaching nurses.
His research interests include the development of very premature infants and the prevention of brain damage in preterm newborns. He is the author of several papers in peer-reviewed journals.
Dr. Vitushka is known as a health educator for parents and a media speaker on various aspects of pediatrics.
He has also hosted morning children's TV shows on health and hygiene, which was an out-of-the-ordinary media experience for Dr. Vitushka.
He is a First Aid Instructor for the Red Cross, training school teachers and kindergarten personnel on how to cope effectively with medical emergencies in kids.