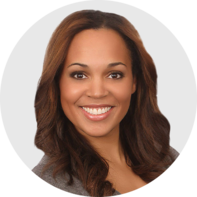 Anita Jalloh, MS
Nutritionist and health educator, Comprehensive Medical Nutrition Solutions LLC, New York, US
Work Experience: 10+ years in nutrition and health education
"I believe everyone should have access to nutrition and health education regardless of income. By implementing innovative techniques and delivering them digitally, we have the power to change the world and prevent chronic disease."
Career Highlights
Founder and CEO of Comprehensive Medical Nutrition Solutions, LLC, 2017–present
Writer for Health Insiders, a platform for evidence-based information on nutrition and wellness, 2019–2020
Adjunct Professor in Community Nutrition at the College of Saint Elizabeth, 2018
Division I women's lacrosse athlete at Syracuse University, NY
Published several articles on nutrition
Member of the Academy of Nutrition and Dietetics and New Jersey Dietetic Association
Education
Postgraduate internship in acute care nutrition, community nutrition, and outpatient clinical nutrition at the College of Saint Elizabeth, Morristown, NJ, 2016–2017
Master of Science in Nutrition from the College of Saint Elizabeth, Morristown, NJ, 2016
Bachelor of Science in Nutrition and Dietetics from the College of Saint Elizabeth, Morristown, NJ, 2014
Bachelor of Science in Communications and Rhetorical Studies from Syracuse University, NY, 2006
Featured Publications
"Ashwagandha – Evidence-based Information on the Promising Health Benefits, Uses, & Possible Side Effects." Health Insiders, 01 Dec 2021, https://www.healthinsiders.com/ashwagandha
"The Benefits of High Protein Diet and Protein 'Packaging' to Help Power You Through Your Day." Health Insiders, 01 Dec 2021, https://www.healthinsiders.com/high-protein-diets
"Can Social Media Impact Our Nutritional Habits?" Rutgers New Jersey Agricultural Experiment Station, vol. 26, no. 3, 2014, https://njaes.rutgers.edu/visions/pdfs/2014/vis-26-3.pdf
My Journey in Nutrition
I chose to work in the health and wellness industry to decrease health disparities among various populations. Each day, I'm driven to provide health education that helps people achieve their goals, prevent chronic illnesses, and create healthier households across the country.
After I completed my training as a clinical nutritionist, I pursued my love for education as an adjunct professor at Saint Elizabeth University. My courses focused on community nutrition, preparing the next generation of nutrition practitioners to enter the field.
At the same time, I founded my company, Comprehensive Medical Nutrition Solutions. We are a nutrition and health education consulting firm specializing in creating unique programs tailored to our clients' needs. Our mission is to build healthier communities and strengthen the domestic hunger safety net. We work with individuals, government organizations, corporations, restaurants, and community organizations. I've developed and implemented several curriculums for government agencies on healthy eating, meal preparation, and budgeting, including the U.S. Department of Agriculture's (USDA) SNAP-Ed program and Women, Infants, and Children program (WIC).
I joined Flo's medical board in the summer of 2020, and I'm so thrilled to be here! It's great to collaborate with the team; I've enjoyed creating expert content on nutrition, such as a video series on the importance of hydration for people trying to conceive.
Flo Advisory Board of 100+ Doctors, Scientists, and Health Experts
We break down complex medical topics into accessible and digestible information that empowers readers to take action and prioritize their own well-being. Our team of Medical and Scientific Advisors is made up of over 100 certified health experts from a variety of disciplines who ensure that every piece of content we release is medically accurate, understandable, and up-to-date with the latest scientific findings. We rely on medical guidelines from international health organizations and get information from academic institutions and peer-reviewed articles, which is fully described in our Flo Editorial Process and Standards.