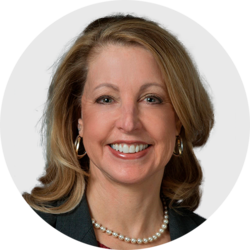 Barbara Levy, MD
Clinical Professor of Obstetrics and Gynecology, George Washington University School of Medicine and Health Sciences, WA, USA
Work Experience: 20+ years in health care
Barbara Levy, MD, FACOG, FACS, is a lifelong advocate for advancing the quality of women's health.
Education
Dr. Levy graduated magna cum laude from Princeton University.
Obtained her medical degree from the University of California, San Diego.
Completed an internship and residency at the Oregon Health Sciences University.
Professional Experience
Serving as Vice President of Health Policy at ACOG (The American College of Obstetricians and Gynecologists), Dr. Levy directed the expansion of the Advocacy Division to support the Office of Global Women's Health, reducing maternal mortality and building sustainable capabilities in several countries.
Dr. Levy was the Principal Investigator and oversaw the development and implementation of the Alliance for Innovation in Maternal Health (AIM) program while at ACOG. Under her leadership, that initiative grew from an initial commitment to eight states to the current AIM II activities designed to reach all 50 U.S. states as well as the territories.
Among her professional highlights are:
She led the Strategies in Health Equity team to advocate for access to comprehensive women's health services throughout the world.
Her work through the American Medical Association (AMA) has improved payment policy for OB-GYNs, while the division's quality and safety initiatives improved systems of care for women — particularly within the AIM program to reduce maternal mortality.
Was in private practice and served as a Medical Director for Women's and Children's Services for the Franciscan Health System.
Dr. Levy has also served as a reviewer and editor for several medical journals, including Obstetrics & Gynecology, American Journal of Obstetrics and Gynecology, JAMA, JMIG, and Fertility and Sterility.
Passion and Motivation
Dr. Levy has been a vocal advocate for women's health with appearances on "The Oprah Winfrey Show" and multiple other media outlets.
Her research interests span from outcomes research in minimally invasive gynecologic surgery to optimizing care for women with chronic pelvic pain.