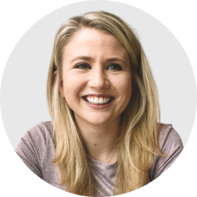 Dr. Brittany Korman
Doctor of physical therapy, owner, B.yond Physical Therapy, Glenview, Illinois, US
Work Experience: 5+ years in physical therapy and fitness instruction
"I'm passionate about helping people through their rehabilitation journey so they can return to the activities they love. Through a combination of therapeutic exercise, patient education, and hands-on therapy, I strive to bridge the gap between physical therapy and lifelong sustainable fitness."
Career Highlights
Doctor of physical therapy, owner of B.yond Physical Therapy, Glenview, IL, US, 2022–present
Physical Therapist at Traci Heller Physical Therapy, Highland Park, IL, 2019–present
Group Fitness Instructor at Vital, Dallas, TX, 2018–present
Physical Therapist at TMI Sports Medicine, Arlington, TX, 2018–2019
Physical Therapist at 3DPT, Dallas, TX, 2018–2019
Volunteer Fitness Instructor at Neuro Fitness Foundation, led classes for people with stroke and spinal cord injury, 2017
Certified in dry needling, a technique to manage neuromusculoskeletal pain and improve movement
Licensed group fitness instructor
Education
Various internships in physical therapy, including at Boca Raton Regional Hospital, FL; HealthSouth, Dallas, TX; and Body Gears Physical Therapy, Chicago, IL, 2016–2018
Doctor of Physical Therapy from Texas Woman's University, TX, 2018
Bachelor of Science in Kinesiology and Exercise Science from the University of Texas at Austin, TX, 2015
My Journey in Physical Therapy
As a former soccer player and dancer, I understand sports injuries first-hand, including an ACL tear of my own. The physical therapists who helped in my recovery left a lasting positive impact on me that continues to shape the way I care for my patients today. My goal in my work is to help people decrease pain and increase function so they can return to a pain-free active lifestyle.
I aim to make the rehabilitation process as enjoyable as possible so my patients can reach their full, healthy potential and achieve their goals. Through evidence-based practice and individualized treatments, I tailor physical therapy to each patient to help them along their journey to recovery. On a regular basis, I treat people with a variety of orthopedic, sports-related, and women's health injuries. I have advanced training in women's health and vestibular conditions, including vertigo and pelvic floor dysfunction.
Outside of the clinic, I teach group fitness classes that combine high-intensity training, strength, and yoga. In my free time, I also enjoy leading a healthy lifestyle through cycling, pilates, and my own yoga practice. Find me on Instagram: @b.yondpt.
At Flo, I appreciate the opportunity to give my feedback on sports-related content to encourage lifelong wellness, health, and balance among our millions of users.
Flo Advisory Board of 100+ Doctors, Scientists, and Health Experts
We break down complex medical topics into accessible and digestible information that empowers readers to take action and prioritize their own well-being. Our team of Medical and Scientific Advisors is made up of over 100 certified health experts from a variety of disciplines who ensure that every piece of content we release is medically accurate, understandable, and up-to-date with the latest scientific findings. We rely on medical guidelines from international health organizations and get information from academic institutions and peer-reviewed articles, which is fully described in our Flo Editorial Process and Standards.