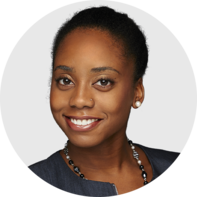 Carlie Beaucejour, MS, RD
Registered dietitian, Crave with Carlie LLC, Pennsylvania, US
Work Experience: 10+ years in nutrition
"I enjoy supporting the community and individuals on their journey to healthy living through food using evidence-based resources. The gratification of improving people's health with nutrition through education, motivation, and accountability drives me in my professional life."
Career Highlights
Director of private dietetics practice, Crave with Carlie, LLC, Philadelphia, PA, 2020–present
Outpatient Renal Dietitian at DaVita Kidney Care, Philadelphia, PA, 2020–2021
Campus Dietitian at Compass Group USA, Charlotte, NC, 2019–2020
Registered Dietitian at Family Food, LLC, Bala Cynwyd, PA, 2018–2019
Outpatient Dietitian at Crozer-Keystone Health System, Springfield, PA, 2018–2019
Assistant Community Nutritionist for the Women, Infants, and Children's (WIC) program, Baltimore, MA, 2016–2017
Research Nutrition Technician at Johns Hopkins School of Medicine, Baltimore, MA, 2015–2016
Dietary Aide at Sodexo, Philadelphia, PA, 2012–2014
Education
Master of Science in Clinical Nutrition from the New York Institute of Technology, 2019
Internship in Dietetics at the University of Delaware, 2017–2018
Bachelor of Science in Dietetics from the University of Delaware, 2014
My Journey in Nutrition
When I started my bachelor's degree, I was actually in the nursing program at my university. I had never even heard of a dietitian until I did a nursing externship at the local hospital and witnessed a woman in a lab coat examining patients' diets. Before that, I didn't even know it was a career possibility, and I thought it was the coolest thing. I later found out that I couldn't return to the nursing program because I failed two classes (don't take seven classes in one semester!), and my university happened to have a fantastic dietetics program. The stars aligned then and there, and it was the best decision I could have made.
Before founding my private, virtual nutrition practice, I worked for several years in clinical, governmental, corporate, university, and community settings to help people prioritize healthy eating. Now, I conduct nutrition assessments for diverse clients, test new recipes, create personalized meal plans, and write evidence-based nutrition content. My goal is to help people prevent diabetes and hypertension, eat healthier, and improve their relationships with food.
As part of my work as a virtual dietitian, I enjoy collaborating with awesome organizations like Flo. I believe women play an integral role in the health of future generations, and am blessed to have the opportunity to help women everywhere make the best diet decisions for themselves.
Flo Advisory Board of 100+ Doctors, Scientists, and Health Experts
We break down complex medical topics into accessible and digestible information that empowers readers to take action and prioritize their own well-being. Our team of Medical and Scientific Advisors is made up of over 100 certified health experts from a variety of disciplines who ensure that every piece of content we release is medically accurate, understandable, and up-to-date with the latest scientific findings. We rely on medical guidelines from international health organizations and get information from academic institutions and peer-reviewed articles, which is fully described in our Flo Editorial Process and Standards.