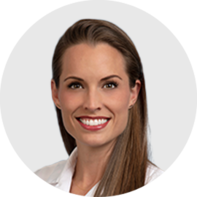 Dr. Carlie Thompson
Breast surgical oncologist and assistant professor, University of California, California, US
Work Experience: 10+ years in breast surgical oncology
"I am driven by the deep, emotional connection I make with my patients and the fact that I am able to positively impact their lives in such a significant way."
Career Highlights
Assistant Professor of Surgery at the University of California, Los Angeles, CA, 2018–present
Breast surgical oncology fellowship at Cedars-Sinai Medical Center in Los Angeles, CA, 2017–2018
Licensed in general surgery by the American Board of Surgery
Authored 15 peer-reviewed articles and several book chapters
Presented at a variety of national meetings
Received several awards for teaching and compassion during residency, including the Chesson Award for Compassion in Surgery, 2017; Lynn Sage Scholar, 2017; Outstanding Mentorship Award from the Association of Women Surgeons, 2017; and Resident as Teacher Award from the Department of Surgery at Northwestern University, 2012
Member of the American Society of Breast Surgeons, Association of Women Surgeons, Society of Surgical Oncology, American College of Surgeons, American Medical Association, and American Medical Women's Association
Education
Residency in Surgery at the University of California, San Francisco, CA, 2013–2017
Residency in Surgery at Northwestern University – The Feinberg School of Medicine, Chicago, IL, 2010–2013
Medical Degree from Washington University in St. Louis, MO, elected into Alpha Omega Alpha honor society, 2010
Bachelor of Science in Psychology from Indiana University, IN, graduated summa cum laude and elected into Phi Beta Kappa honor society, 2006
Featured Publications
"National trends and predictors of mastectomy with immediate breast reconstruction." The American Journal of Surgery, vol. 222, no. 4, Oct 2021, doi: 10.1016/j.amjsurg.2021.02.014
"​​Going flat after mastectomy: Patient-reported outcomes by online survey." Annals of Surgical Oncology, vol. 28, no. 5, May 2021, doi: 10.1245/s10434-020-09448-9
"Assessing the burden of nodal disease in breast cancer patients with clinically positive nodes: Hope for more limited axillary surgery." Annals of Surgical Oncology, vol. 28, no. 5, May 2021, doi: 10.1245/s10434-020-09228-5
"Locoregional management of inflammatory breast cancer." Current Breast Cancer Reports, vol. 12, 18 Nov 2020, doi: 10.1007/s12609-020-00389-6
My Journey in Medicine
I went into medicine to develop deep and personal relationships with the people that I care for, so I was drawn to the field of oncology very early on. I have always been particularly passionate about caring for women and women's health, so it was abundantly clear the field of breast surgical oncology would be perfect for me. To this day, I feel constantly grateful that I get to be a part of so many people's lives.
In my daily work, I evaluate and treat patients who have been diagnosed with breast cancer, in addition to caring for those with benign surgical and non-surgical conditions, and patients at high risk for developing breast cancer. I use a multidisciplinary, evidence-based, and individualized approach to care for my patients, regularly employing advanced surgical techniques, such as nipple-sparing mastectomy, nipple delay, aesthetic flat closure, and targeted axillary dissection. I care very much about my patients and their families and do my very best to improve their lives before, during, and after breast cancer treatment.
Beyond treating patients at the UCLA medical center, I also teach future doctors and do my own clinical research. My research has focused on breast cancer screening, evaluating ductal carcinoma in situ (when the cells that line the milk ducts become cancer), and the neoadjuvant treatment of breast cancer (treating breast cancer tumors with chemotherapy before surgical removal).
At Flo, I advise on content related to breast health, cancer prevention, and treatment. I love having the opportunity to share my expertise and help millions more people around the world take care of their well-being.
Flo Advisory Board of 100+ Doctors, Scientists, and Health Experts
We break down complex medical topics into accessible and digestible information that empowers readers to take action and prioritize their own well-being. Our team of Medical and Scientific Advisors is made up of over 100 certified health experts from a variety of disciplines who ensure that every piece of content we release is medically accurate, understandable, and up-to-date with the latest scientific findings. We rely on medical guidelines from international health organizations and get information from academic institutions and peer-reviewed articles, which is fully described in our Flo Editorial Process and Standards.