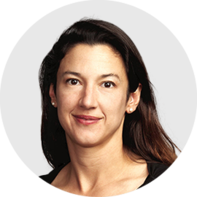 Dr. Cynthia DeTata
Clinical assistant professor of obstetrics and gynecology, Lucile Packard Children's Hospital, California, US
Work Experience: 20+ years in obstetrics and gynecology
"I believe that accurate knowledge gives women power to control their own health, and I am honored to have the chance to participate as a medical consultant for Flo."
Career Highlights
Physician at Lucille Packard Children's Hospital, Stanford Children's Health, 2002–present
Physician at Stanford Hospital, 2001–present
Guest instructor in the Masters of Academic Medicine program at the Keck School of Medicine, USC, 2017–present
Co-Director of the OB-GYN Clerkship at Stanford University School of Medicine, 2005–2019
Speaker at numerous national conferences, including the Innovations in Medical Education Conference in 2018 and 2019, San Gabriel, CA; the Learning Communities Institute 12th Annual Meeting in 2015, San Diego, CA; the Association of Professors of Gynecology & Obstetrics Faculty Development Seminar in 2014, Manalapan, FL; and more
Editor of The Clinical Teacher, a medical journal for clinicians who teach
Member of several professional societies, including the American College of Obstetrics and Gynecology, the American Professors of Gynecology & Obstetrics and Stanford's Teaching and Learning Academy
Recipient of multiple awards, including the APGO Faculty Scholars and Leaders from the Association of Professors of Gynecology & Obstetrics in 2019; the APGO Excellence in Teaching Award from the Association of Professors of Gynecology & Obstetrics in 2018; Faculty Fellow, Center of Excellence at Stanford University in 2017; Leadership in Education Award, Stanford University School of Medicine in 2008; and the Resident Laparoscopy Award from the American Association of Gynecologic Laparoscopists in 1998
Education
Master of Science in Academic Medicine from the Keck School of Medicine at the University of Southern California, Los Angeles, CA, 2016
Residency in Obstetrics and Gynecology at Kaiser Permanente Santa Clara Medical Center, CA, 1995–1998
Medical degree from the University of Southern California School of Medicine, 1995
Bachelor of Science in Physiology and Psychology from the University of California, Davis, 1990
Featured Publications
"Teaching and assessing non-technical skills." The Clinical Teacher, vol. 12, no. 3, Jun 2015, pp. 219, doi: 10.1111/tct.12352
My Journey in Medicine
In my medical practice, I've focused mainly on complicated pregnancies. Specifically, I help patients carrying more than one baby, who may be older, pregnant after receiving infertility treatment or weight loss surgery, or dealing with health complications during pregnancy, including thyroid disease, gestational diabetes, hypertension, depression, and anxiety. It's so fulfilling to help pregnant patients with illnesses or other complications carry out a healthy pregnancy and give birth to a healthy baby.
I love partnering with my patients to educate, coach, and facilitate their understanding of their care. I'm also passionate about combating disparities within the health care system and caring for the LGBT+ community.
As a Clinical Professor at Stanford, I work with third and fourth year medical students, teaching them the ins and outs of the OB-GYN specialty. I enjoy instructing because it allows me to have an impact on the doctors of the future by sharing my expertise from my years in the field and showing them the importance of compassionate, evidence-based medical care.
Recently, I was quoted in TIME magazine about the effect of coronavirus on pregnant people.
I joined Flo as a Medical Advisor in the spring of 2019 — I review articles related to pregnancy and consult about gynecological topics in order to help millions of users worldwide take better control over their health.
Flo Advisory Board of 100+ Doctors, Scientists, and Health Experts
We break down complex medical topics into accessible and digestible information that empowers readers to take action and prioritize their own well-being. Our team of Medical and Scientific Advisors is made up of over 100 certified health experts from a variety of disciplines who ensure that every piece of content we release is medically accurate, understandable, and up-to-date with the latest scientific findings. We rely on medical guidelines from international health organizations and get information from academic institutions and peer-reviewed articles, which is fully described in our Flo Editorial Process and Standards.