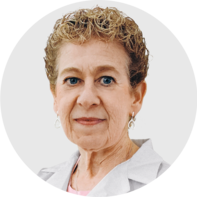 Dr. Deborah Friedman
Professor emeritus of pediatrics, New York Medical College, New York, US
Work Experience: 40+ years in pediatrics and critical care
"We all strive to find meaning and importance in our lives. Passion occurs when our interests and talents coincide to allow us to pursue this goal. I have devoted my life to helping others and thus created meaning through medicine."
Career Highlights
Professor of Pediatrics at and Co-chair for Research in Pediatric Cardiology at New York Medical College, 2008–present
Department Chair of Pediatrics at Saint Barnabas Hospital, Livingston, NJ, 2005–2008
Department Chair of Pediatrics at St. Luke's – Roosevelt Hospital, New York, NY, 1995–2005
President of Pediatric Cardiology Society of Greater New York, 1999–2001
Fellow of the American Academy of Pediatrics (FAAP) and the American College of Cardiology (FACC)
Board-certified in pediatrics, pediatric cardiology, and pediatric critical care
Published 200+ articles in peer-reviewed medical journals
Received several awards, including Top Doctors: New York Metro Area, 2002–2014; Westchester Magazine: Top Doctors, 2010–2013; New York Magazine: Top Doctors; Humanitarian Award at Columbia University for a medical mission to Guatemala, 1995; and Teacher of the Year from the NYU Pediatric Residency program, 1993
Education
Fellowship in Pediatric Cardiology at New York University School of Medicine, NY, 1980–1983
Residency in Pediatrics at Albert Einstein College of Medicine, Jacobi Medical Center, 1977–1980
Degree in Medicine from University of Chicago Pritzker School of Medicine, Alpha Omega Alpha honorary medical society, IL, 1977
Bachelor of Arts in Biology from University of Chicago, 1973
Featured Publications
"Stable to improved cardiac and pulmonary function in children with high-risk sickle cell disease following haploidentical stem cell transplantation." Bone Marrow Transplant, vol. 56, no. 9, Sep 2021, doi: 10.1038/s41409-021-01298-7
"Eltrombopag use for refractory immune thrombocytopenia in pregnancy: A case report." Case Reports in Women's Health, vol. 29, 26 Dec 2020, doi: 10.1016/j.crwh.2020.e00281
"Hydroxychloroquine to Prevent Recurrent Congenital Heart Block in Fetuses of Anti-SSA/Ro-Positive Mothers." Journal of the American College of Cardiology, vol. 76, no. 3, Jul 2020, doi: 10.1016/j.jacc.2020.05.045
My Journey in Medicine
I have always been fascinated by science and medicine. Pediatrics allows me to care for delightful patients and families, promoting outcomes across their entire lifetime. Pediatric cardiology as a subspecialty is diverse, difficult, but rewarding.
Over the past four decades, I've taken on many roles: professor, researcher, clinician, and consultant. I've also served on several advisory boards and speakers' bureaus. I have really enjoyed a long career of teaching the doctors of tomorrow, caring for young patients, and helping build a wealth of knowledge about pediatric care and cardiology through hundreds of research studies.
At Flo, I advise on content specific to young girls and menstruators, and I appreciate the opportunity to affect so many lives worldwide through this powerful app.
Flo Advisory Board of 100+ Doctors, Scientists, and Health Experts
We break down complex medical topics into accessible and digestible information that empowers readers to take action and prioritize their own well-being. Our team of Medical and Scientific Advisors is made up of over 100 certified health experts from a variety of disciplines who ensure that every piece of content we release is medically accurate, understandable, and up to date with the latest scientific findings. We rely on medical guidelines from international health organizations and get information from academic institutions and peer-reviewed articles, all of which is fully described in our Flo Editorial Process and Standards.