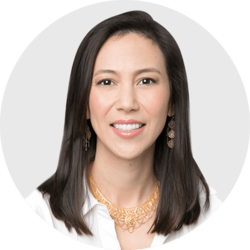 Staci Tanouye, MD
OB-GYN physician in private practice, FL, USA
Work Experience: 10+ years in Gynecology
"I love everything about taking care of women and all people with ovaries. I chose obstetrics and gynecology because of the diversity of the field. I get to do adolescent health, pregnancy, perimenopause, menopause, surgery, primary care, emergent care, and even some psychological health. It is an honor to take care of people through all stages of life."
Dr. Staci Tanouye is a board-certified gynecologist physician, a member of the American Congress of Obstetricians and Gynecologists (ACOG) and the International Society for the Study of Women's Sexual Health (ISSWSH), and a women's health blogger.
She is passionate about creating a comfortable, safe, and inclusive environment to empower women to learn about and love their bodies.
Education
BA in Biology and Education from Washington University in St. Louis, Missouri
MD at Saint Louis University School of Medicine
Residency at the Mayo Clinic in Rochester, Minnesota, where she won several teaching awards
Passion and motivation
Dr. Staci Tanouye is a published author and an experienced speaker who's been featured on podcasts and news articles as a women's health expert.
Dr. Staci has created an active and international following on social media teaching women about their bodies and sharing her journey as a physician, wife, and mother.
Staci shares her knowledge as @dr.staci.t on Instagram and TikTok.
"Helping women and all people with reproductive health needs learn more about their bodies, understand their bodies, and appreciate what their bodies can do for them is incredibly empowering for both them and me. Making people feel comfortable and confident with the most private aspects of their lives is extremely rewarding. I feel deeply connected to all of my patients and love to celebrate their health with them."