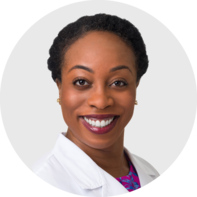 Dr. Edidiong Kaminska
Dermatologist, private practice, Illinois, US
Work Experience: 10+ years in dermatology
"Dermatology is multifaceted. From surgical, cosmetic, and medical visits, my days are exciting and engaging. I appreciate being able to treat patients of all ages, from birth until the end of life."
Career Highlights
Medical Director and Founder at Kaminska Dermatology, 2019–present
Dermatologist at Northwestern University, Cedars-Sinai and NorthShore University HealthSystem, 2013–2019
Reviewer for the Journal of the American Academy of Dermatology
Board-certified Dermatologist by the American Board of Dermatology
Education
Residency in Dermatology at the University of Chicago, IL, 2010–2013
Medical Degree from Wake Forest University, Winston-Salem, NC, 2009
Master of Science in Biomedical Sciences from the University of South Carolina–Columbia, SC, 2005
Bachelor of Science in Biology from the University of North Carolina at Chapel Hill, NC, 2002
Featured Publications
"Treatment of acne and acne-related scarring with fixed combination clindamycin phosphate and benzoyl peroxide gel (1.2%/3.75%) and tretinoin gel microsphere 0.06% in an Asian American transgender female." SAGE Open Medical Case Reports, 29 Dec 2020, doi: 10.1177/2050313X20984038
"Treatment of Actinic Keratoses: A Randomized Split-Site Approach Comparison of Sequential 5-Fluorouracil and 5-Aminolevulinic Acid Photodynamic Therapy to 5-Aminolevulinic Acid Photodynamic Monotherapy." Dermatologic Surgery, Sep 2017, vol. 43, no. 9, doi: 10.1097/DSS.0000000000001161
"Methotrexate-Induced Nasal Septal Perforation." Skinmed, 01 Apr 2016, vol. 14, no. 2, PMID: 27319962
My Journey in Medicine
I love being a skin expert and helping people achieve their skin care goals. Our skin health is intricately connected to our mental health, and it's such a satisfying feeling to help a patient get better and impact their overall well-being. My mission is to provide evidence-based medical care with compassion and grace so that when each patient leaves an appointment with me, they know they are in good hands.
The best part of my work is developing lifelong relationships with patients and their family members. My specialties include treating skin of color, performing cosmetic dermatology with Botox/Dysport, providing fillers and laser surgery, and preventing, detecting, and treating different types of skin cancer. I also commonly treat a variety of skin conditions, like atypical or dysplastic moles, acne, hyperpigmentation, warts, eczema and other rashes, psoriasis, and unusual growths. Besides the skin, dermatologists treat hair and nail disorders too!
I'm passionate about educating others on skin disorders. At Flo, I enjoy advising on dermatology-related content to help millions of girls and women around the world have healthy skin and feel amazing.
Flo Advisory Board of 100+ Doctors, Scientists, and Health Experts
We break down complex medical topics into accessible and digestible information that empowers readers to take action and prioritize their own well-being. Our team of Medical and Scientific Advisors is made up of over 100 certified health experts from a variety of disciplines who ensure that every piece of content we release is medically accurate, understandable, and up to date with the latest scientific findings. We rely on medical guidelines from international health organizations and get information from academic institutions and peer-reviewed articles, all of which is fully described in our Flo Editorial Process and Standards.