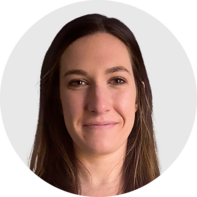 Ellie Kelsey, MS, RDN
Eating disorder dietitian, Ellie Kelsey Nutrition LLC, New Jersey, US
Work Experience: 5+ years in medical nutrition therapy and eating disorders
"Eating disorders rob people of a lot of time and energy, keeping them small both figuratively and physically. I help my clients learn how to listen to their bodies and take up space again, and I am thankful to play this role in their health journeys. I love to discuss self-esteem and perfectionism and incorporate mindfulness exercises alongside nutrition education in my sessions."
Career Highlights
Founder of private eating disorder nutrition practice, Ellie Kelsey Nutrition LLC, Wall Township, NJ, 2021
Eating disorder registered dietitian at Robert Wood Johnson University Hospital Somerset, Somerville, NJ, 2020–2021
Behavioral health registered dietitian at RWJBarnabas Health Behavioral Health Center, Toms River, NJ, 2020
Clinical registered dietitian at Community Medical Center, Toms River, NJ, 2019–2020
Education
Dietetic internship with Marshall University, Huntington, WV, 2019
Master of Science in nutrition and dietetics from Bastyr University, Kenmore, WA, 2018
Bachelor of Science in biobehavioral health, graduated magna cum laude, Pennsylvania State University, University Park, PA, 2015
My Journey in Nutrition
I've always been interested in the relationship people have between food and their body and the influence this has on health and nutrition. This naturally led me toward the field of disordered eating nutrition therapy. My journey in this specialty began with a period of self-study, during which I found my favorite podcast ("Food Psych" by Christy Harrison, MPH, RD, CEDS) and attended several conferences and trainings on disordered eating.
Before starting my private practice, I gained experience in inpatient and outpatient clinical settings, where I saw first-hand the damaging effects of COVID and trauma on mental health and eating behaviors.
On top of disordered eating, I specialize in providing weight-inclusive medical nutrition therapy to people with conditions including cardiovascular disease, ADHD, diabetes, and hypertension. I incorporate intuitive eating and gentle nutrition concepts personalized to each client so they can build toward food freedom.
My goal is to help people heal their relationship with food and improve the way they perceive themselves. Through individual, trauma-informed counseling, we work together so they can create more peace around food and in their body.
I am thrilled to join Flo's medical advisory board to contribute my knowledge on food and body relationships and help people worldwide eat and live well.
Flo Advisory Board of 100+ Doctors, Scientists, and Health Experts
We break down complex medical topics into accessible and digestible information that empowers readers to take action and prioritize their own well-being. Our team of Medical and Scientific Advisors is made up of over 100 certified health experts from a variety of disciplines who ensure that every piece of content we release is medically accurate, understandable, and up-to-date with the latest scientific findings. We rely on medical guidelines from international health organizations and get information from academic institutions and peer-reviewed articles, which is fully described in our Flo Editorial Process and Standards.