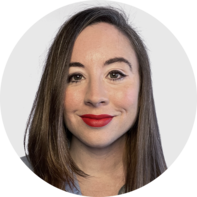 Erica Smith, MEd
Sex educator, Erica Smith Education and Consulting, Pennsylvania, US
Work Experience: 10+ years in sex education
"I approach sex education through a social justice lens. The cornerstone of my work is the belief that access to compassionate, evidence-based, comprehensive sexuality education is a key component to wellness and equality for all."
Career Highlights
Owner of Erica Smith Education and Consulting, LLC, Philadelphia, PA, 2019–present
Support Group Program Coordinator in the Gender and Sexuality Development Clinic at The Children's Hospital of Philadelphia, 2015–present
Leader of Adolescent Initiative Juvenile Justice Program, a sexuality education program for youth in juvenile detention centers, The Children's Hospital of Philadelphia, 2002–2019
Contributing Writer to Ferine Magazine, 2018–present; Girls Gone Strong, 2017–present; and Planned Parenthood, 2015–2016
Recognized by Women's Way and Lambda Legal for outstanding work with young women and LGBTQ+ youth
Education
Master of Education from Widener University, Center for Human Sexuality Studies, Chester, PA, 2007
Graduate work in Human Sexuality Education from University of New Orleans, with summer seminars in gender and sexuality at Charles University in Prague, 2004
Bachelor of Arts in Women's Studies from Penn State University, State College, PA, 2001
My Journey in Sex Education
I grew up in a small town in the Pennsylvania countryside. No one was gay in my town, or at least not openly. When I got to college, I discovered that I was queer and became very interested in gender studies and sexuality. I realized that growing up, the only sexuality education was centered around abstinence, heteronormativity, and shame. I decided to pursue a career in sex education, and I absolutely love what I do.
My areas of expertise are purity culture recovery, queer health, LGBTQ+ issues, adolescent sexuality and sexual wellness, sexual health of justice-involved youth, and sex education for children. I started my own sexuality consulting business in 2019 and created the Purity Culture Dropout Program. The goal of the program is to provide adults with the accurate, compassionate, queer-inclusive, shame-free, and trauma-informed sex education that they didn't get growing up. I have written a sexual values workbook for folks raised in purity culture and co-authored a book, Sex Q&A, to help parents answer their childrens' questions about sex. I also do one-on-one sex ed coaching sessions and train emerging sex educators.
Before starting my own consulting business and throughout the majority of my career, I was working with adolescents in Philadelphia's juvenile detention centers on comprehensive sex education, HIV prevention, and LBGTQ+ support. Over the years, I've also regularly had speaking engagements and have been featured on SIRIUS XM's Doctor Radio and in Huffington Post, Bustle, The Daily Beast, Refinery 29, Healthline, Parents Magazine, Vice, and more.
Sex education is a lot about unlearning what we've learned in the past to feel comfortable exploring our own sexuality in a way that feels best for us. At Flo, I really enjoy being able to reach even more young people and adults worldwide with powerful sex positive education.
Flo Advisory Board of 100+ Doctors, Scientists, and Health Experts
We break down complex medical topics into accessible and digestible information that empowers readers to take action and prioritize their own well-being. Our team of Medical and Scientific Advisors is made up of over 100 certified health experts from a variety of disciplines who ensure that every piece of content we release is medically accurate, understandable, and up to date with the latest scientific findings. We rely on medical guidelines from international health organizations and get information from academic institutions and peer-reviewed articles, all of which is fully described in our Flo Editorial Process and Standards.