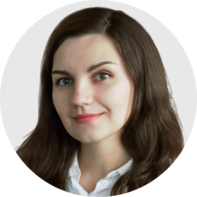 Eugenia Tikhonovich, MD
Obstetrician-Gynecologist, Medical Consultant
Work Experience: 6+ years in Obstetrics and Gynecology
Dr. Tikhonovich is an Obstetrician and Gynecologist specializing in prenatal care and obstetric surgery for high-risk pregnancies. Her special research interest covers chronic venous disease in pregnancy. She currently cares for patients and directs a clinical Obstetrics and Gynecology course for medical students.
Dr. Tikhonovich is a member of the International Society of Gynecological Endocrinology (ISGE). She has presented at annual international scientific conferences and congresses and published research papers in peer-reviewed journals.
Her goal is to combine research and clinical experience to provide the best standards of patient-friendly health care.