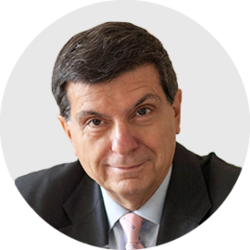 Gian Carlo Di Renzo, MD, PhD
Professor and Chair of the Department of Obstetrics and Gynecology, University of Perugia, Italy
Work Experience: 40+ years' experience in perinatal medicine
"When I chose my residency I was always fascinated by the undiscovered world (at that time) of the conceptus: so I witnessed the development of the fetal medicine and I contributed to it."
Prof. Di Renzo, MD, PhD, FRCOG (hon) FACOG (hon) FICOG (hon), is Professor and Chair of the Department of Obstetrics and Gynecology at the University of Perugia in Italy.
Professional Experience
Prof. Di Renzo is Director of both the Reproductive and Perinatal Medicine Center in Perugia and founder of the Permanent International and European School of Perinatal and Reproductive Medicine (PREIS) in Florence.
He is coordinating the Women's Library of FIGO after being General Secretary for two terms (2012-2018).
Prof. Di Renzo has a number of memberships:
An Advisory Board Member for the March of Dimes Foundation based in New York
A Fellow ad eundem of RCOG
A Honorary Fellow of American ACOG and Indian ICOG
A member of the WHO Strategic Committee on "Maternal and Perinatal health"
He holds multiple positions in publishing:
Founder & Editor-in-Chief of the Journal of Maternal-Fetal and Neonatal Medicine, based in London
Corresponding Editor of the American Journal of Obstetrics and Gynecology
Editor in Chief of the Chinese Journal (in the English language) "Maternal Fetal-Medicine"
Academic Roles
Prof. Di Renzo is an Honorary Professor and Doctor Honoris Causa at 16 different Universities throughout Europe, Asia, South America, and the United States.
He is a full Professor at the Dept of Obstetrics and Gynecology at the I.M. Sechenov First State University of Moscow since 2019 and an Academic Member of the Romanian and Russian Academy of Sciences.
Among his academic achievements are:
Received six awards for his work in human reproduction and maternal-infant's health, scientific research, and teaching.
Organized more than 300 international congresses and courses, some of these are held regularly (Diabetes in Pregnancy: DIP, Birth, World Congress of Maternal-Fetal and Neonatal Medicine, TWINS, etc.)
Has been an invited speaker in over 1,500 national and international congresses and meetings and academic courses in over 110 countries.
Prof. Di Renzo's scientific production comprises over 1,300 papers of which more than 400 have been published in peer-reviewed international journals and 82 books.
"Curiosity and dedication to teaching are my passions. I am always driven by the possibility to educate and train new residents and give them the best which I know of the specialty. For patients I am always challenged by difficult cases and to find new ways to manage complicated situations in order to bring them to a positive solution."