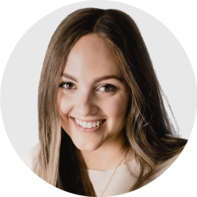 Hannah Magee, RD
Registered dietitian, media nutrition expert, Canada
Work Experience: 5+ years in nutrition
"I believe healthy living should be flexible and fun. I aim to help people rediscover the joys of eating and living well without restriction or obsession."
Career Highlights
Media and Consulting Dietitian, Food and Nutrition Writer at Hannah Magee RD, 2018–present
Co-host of the No BS Nutrition Podcast
Regular guest on Global News Morning show Halifax/New Brunswick, sharing practical tips for healthy eating, 2019–present
Hosts bi-monthly segment on Global News Morning called Healthier With Hannah
Worked as a media spokesperson for health and lifestyle brands, including Canon, Cheerios, Jamieson Vitamins, Dairy Farmers of Canada, Florida Orange Juice, Manitoba Harvest, and Nestle BOOST
Led nutrition and wellness workshops for organizations including TikTok, Mount Saint Vincent University, and YWCA Halifax
Clinical Dietitian at Nova Scotia Health Authority, Halifax, Canada, 2018–2020
Education
Internship in Dietetics at St. Michael's Hospital, Toronto, Canada, 2016–2017
Master's degree in Dietetics from Ryerson University, Toronto, Canada, 2017
Bachelor of Science in Applied Human Nutrition, graduated with distinction, from Mount Saint Vincent University, 2014–2016
My Journey in Nutrition
My parents were great cooks, and I developed a passion for cooking and baking from a young age. In university, I started an Instagram page to share my kitchen creations. While completing my dietetic internship, I realized that blogging and working as a dietitian in the media was the right path for me. Before transitioning full-time into media nutrition consulting, I worked as a clinical dietitian in geriatrics, rehabilitation, general surgery, and stroke.
Now, I am a blogger, writer, speaker, podcaster, recipe developer, and content creator. I love being able to combine my training in nutrition with my creative skills in areas like public speaking, writing, recipe development, and food photography. Through various online mediums, I have the chance to reach a wider audience with my positive nutrition messaging than I could in a clinical setting. You can find me on Instagram @hannahmagee_rd, my podcast, No BS Nutrition, or my TV segment, Healthier With Hannah on Global News Morning.
My passion is to help people develop and maintain healthy relationships with food. There is so much misinformation and potentially harmful diet messaging out there, so I want to be a friendly, reliable source for practical nutrition and health information.
At Flo, I enjoy consulting on nutrition-related content, sharing evidence-based nutrition messages, and separating nutrition myth from fact. I aim to help our users as well as those who follow me on different platforms to build sustainable, pleasurable habits for life through food.
Flo Advisory Board of 100+ Doctors, Scientists, and Health Experts
We break down complex medical topics into accessible and digestible information that empowers readers to take action and prioritize their own well-being. Our team of Medical and Scientific Advisors is made up of over 100 certified health experts from a variety of disciplines who ensure that every piece of content we release is medically accurate, understandable, and up-to-date with the latest scientific findings. We rely on medical guidelines from international health organizations and get information from academic institutions and peer-reviewed articles, which is fully described in our Flo Editorial Process and Standards.