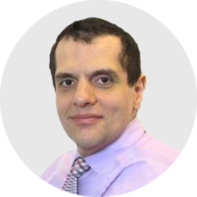 Dr. Hrayr Attarian
Professor of neurology, Northwestern University, Illinois, US
Work Experience: 20+ years in sleep medicine
"I believe in empowering patients by educating them and partnering with them in their own care. I find it rewarding when I can help patients improve their sleep and therefore improve their quality of life."
Career Highlights
Professor at Northwestern University, Chicago, IL, 2010–present
Adjunct Professor at Lebanese American University in Beirut, Lebanon
Adjunct Professor at Yerevan State Medical University, Armenia
Associate Professor at Loyola University Chicago, Maywood, IL, 2009–2010
Associate Professor at University of Vermont, Burlington, VT, 2003–2009
Assistant Professor at Washington University in St. Louis, MO, 1999–2003
Published three textbooks and 75 peer-reviewed medical papers
Board certified in sleep medicine and neurology from the American Board of Psychiatry and Neurology
Education
Fellowship in Sleep Medicine at Hennepin County Medical Center, Minneapolis, MN, 1999
Fellowship in Neurophysiology and Epileptology at University of Rochester, NY, 1998
Residency in Neurology at the State University of New York Upstate Medical University, Syracuse, NY, 1993–1997
Degree in Medicine from the American University of Beirut, Lebanon, 1992
Bachelor's degree in biology from American University of Beirut, Lebanon, 1988
Featured Publications
"Excessive daytime sleepiness could be multifactorial in adults with epilepsy." Journal of Clinical Sleep Medicine, vol. 16, no. 8, 15 Aug 2020, doi: 10.5664/jcsm.8558
"Sleep disorders in traumatic brain injury." NeuroRehabilitation, vol. 43, no. 3, 2018, doi: 10.3233/NRE-182583
"Advances in the management of chronic insomnia." British Medical Journal, vol. 354, no. 2123, 06 Jul 2016, doi: 10.1136/bmj.i2123
My Journey in Medicine
I really love my chosen specialty of sleep medicine because it combines many different disciplines of health care: neurology, internal medicine, and psychiatry.
Over the past two decades, I have practiced sleep medicine, conducted research, and taught medical students about the field. I enjoy mentoring physicians and other health care workers from local and international schools to help them become the best possible providers for their patients.
My primary clinical focus is diagnosing and treating sleep disorders, particularly those related to neurological illnesses such as multiple sclerosis and other medical conditions. In my research, I have focused on sleep disorders in refugees and women and the impact on life quality, as well as gender bias among physicians while screening for sleep disorders. I also have extensive experience in global health, specifically when it comes to improving sleep for vulnerable populations in developing countries.
Having a good night's sleep on a regular basis is such an important aspect of our overall health and well-being, and I take great joy in being able to help people on a daily basis improve their sleeping patterns. Most of my treatments are not through medication; I take a more holistic approach to care. I aim to equip each person who comes to see me with the information they need so that, together, we can find the course of action that fits them and their lifestyle best.
Working together with Flo on content related to sleep helps me reach even more people with the valuable knowledge they need to sleep well.
Flo Advisory Board of 100+ Doctors, Scientists, and Health Experts
We break down complex medical topics into accessible and digestible information that empowers readers to take action and prioritize their own well-being. Our team of Medical and Scientific Advisors is made up of over 100 certified health experts from a variety of disciplines who ensure that every piece of content we release is medically accurate, understandable, and up to date with the latest scientific findings. We rely on medical guidelines from international health organizations and get information from academic institutions and peer-reviewed articles, all of which is fully described in our Flo Editorial Process and Standards.