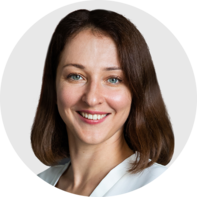 Dr. Iryna Ilyich
Obstetrician and gynecologist, medical advisor, Flo Health Inc., Lithuania
Work Experience: 15+ years in obstetrics and gynecology
"In my experience, close doctor-patient collaboration has the most meaningful impact on treatment success. I specialize in the study and care of pregnancy complications and want to ensure that women feel supported throughout their entire pregnancy and postpartum journey."
Career Highlights
Member of a Working Group Focused on Development of the "FIGO Ovulatory Disorders Classification System," 2021
OB-GYN in Maternity Clinic, 2017–2019
Marketing Manager for medical devices for gynecologists and in-vitro fertilization at LLC ArsTrade Company, 2016–2017
Medical writer, reviewer, and advisor at the Medical Scientific Association Literature Review in Moscow, 2016
Project Manager and Consultant Doctor at American Medical Centers, Belarus regional office, 2015–2016
PhD Student, Researcher, and OB-GYN, 2006–2014
Education
Degree in Medicine, Obstetrics, and Gynecology from Belarusian State Medical University, 2004
Internship in Female Reproductive Health at Belarusian State Medical University, 2004–2005
Medical Seminar and School in Obstetrics and Perinatology at Open Medical Institute in Salzburg, Austria, 2013
Training course and internship in Obstetrics and Gynecology at SLK-Kliniken Heilbronn GmbH (Women's Clinic) in Heilbronn, Germany, 2016
Featured Publications
"Human immunoglobulin in treatment of fetal hemolytic disease." The Journal of Maternal-Fetal and Neonatal Medicine, Volume 27. P 95-96. Supplement 1. XXIV
My Journey in Medicine
I think taking care of women is definitely my calling in life. Women often underestimate their health issues, they don't complain and endure hardship and pain, and I've always wanted to disrupt this pattern. It's so fulfilling when you can change the life of other people for the better, as most women's health conditions are manageable. I'm really excited about taking care of women in various real-life situations, e.g., during pregnancy when everybody is overwhelmed and may need extra support. And of course, it's impossible to put into words how happy it makes me to have a hand in a miracle and see the moment of childbirth.
Throughout my clinical research and work as an OB-GYN, I performed testing, diagnosing, treatment, and monitoring of various conditions relating to women's health. I also spent a good amount of time counseling women with complex diseases during pregnancy, childbirth, and the postpartum period. I collected and reported data, developed new protocols, wrote scientific papers, and also organized and participated in conferences to discuss the results of my research.
My main focus throughout my professional career has been on the study and treatment of medical conditions that may complicate pregnancy, with a particular focus on cardiovascular diseases. I believe the medical community needs to do more to support women with high-risk pregnancies, and I strive to help implement a new approach to follow-up care.
A few years ago, I enjoyed leading birthing and breastfeeding classes to assist new moms.
Then, in the summer of 2019, I joined Flo as a Medical Advisor. I love helping coordinate and plan different research studies that use anonymous user data to move women's health forward, such as the one we conducted on heavy menstrual bleeding. Beyond that, I advise on content projects, provide medical support for the launch of new features, aid in the strategic development of medical affairs, and develop medical policies.
I can't imagine a more fulfilling job. I'm honored to be a part of a global interdisciplinary team of scientists, doctors, and female health experts — all on a mission to help everyone who gets periods put themselves first and prioritize their health and well-being, regardless of their ethnic or religious backgrounds, sexual orientation, or gender identity. What's more, Flo is a workplace of respect, transparency, top talent, and cutting-edge technologies.
Fun Facts
Since we've been working remotely, my cat Nelson has become an integral part of the medical team. He actively participates in all online meetings we have. Sometimes even our CEO Dmitriy can hear his "meow meow meow" during reporting sessions. We expect Nelson will agree on his own Key Performance Indicators any day now.
Flo Advisory Board of 100+ Doctors, Scientists, and Health Experts
We break down complex medical topics into accessible and digestible information that empowers readers to take action and prioritize their own well-being. Our team of Medical and Scientific Advisors is made up of over 100 certified health experts from a variety of disciplines who ensure that every piece of content we release is medically accurate, understandable, and up-to-date with the latest scientific findings. We rely on medical guidelines from international health organizations and get information from academic institutions and peer-reviewed articles, which is fully described in our Flo Editorial Process and Standards.