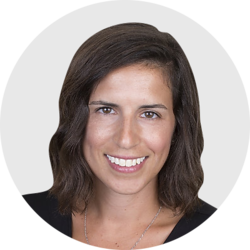 Jenna Flanagan, MD
OB-GYN, Instructor, Academic Specialist Faculty, Department of Obstetrics & Gynecology, Harvard Medical School, MA, USA
Work Experience: 6+ years' experience in obstetrics, gynecology, and minimally invasive gynecologic surgery
"I am honored to be working with an application that has such a huge user base. I strongly believe information and knowledge are essential to making good medical and health decisions and to be helping provide access to these resources through Flo has been very rewarding."
Dr. Jenna Flanagan, FLS, FACOG, MMS, is an academic generalist OB-GYN at Beth Israel in Boston, MA. She has subspecialty interest in Family Planning, Global Health, Laparoscopic surgery and Public Health.
She works directly with resident physicians and is a part of the Family Planning Department at Beth Israel Deaconess Medical Center (BIDMC).
Education
Graduated cum laude with Biology degree (Biology, Chemistry, Neuroscience) at Bowdoin College. Completed a 2 year honor's thesis on spinal cord regeneration. Published work and presented at 2006 National Neuroscience Convention in Atlanta, GA.
MD in Medicine at University of Vermont College of Medicine.
Completed her postgraduate training in an Obstetrics & Gynecology residency at UVM Medical Center.
Awards
Jenna Flanagan has received a number of awards:
The James E. Demeules Surgical Research Prize
The Carbee Award for academic excellence
A Ryan Fellowship for excellence in Family Planning
The Excellence in Minimally Invasive Gynecology award
Her research has focused on optimizing the experience of labor and delivery in the Somali population.
Passion and Motivation
Dr. Flanagan's interests include resident teaching and medical education, labor innovations, breastfeeding medicine, laparoscopic surgery, and evidence-based medicine.
She's a mother of two (and a dog), an avid runner and hiker who loves the outdoors.
"I strongly believe a person should have the right to make medical decisions about their health and body, especially as that relates to pregnancy. I strive to provide support and accurate knowledge during that journey and offer services to allow my patients to receive the care they need in a high quality, evidence-based way."