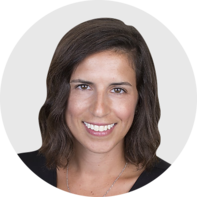 Dr. Jenna Flanagan
Academic generalist obstetrician and gynecologist, Beth Israel Deaconess Medical Center, Massachusetts, US
Work Experience: 5+ years in obstetrics and gynecology
"I strongly believe a person should have the right to make medical decisions about their health and body, especially as it relates to pregnancy. I strive to provide support and accurate knowledge during that journey and offer services to allow my patients to receive the care they need in a high-quality, evidence-based way."
Career Highlights
Generalist OB-GYN at Mount Auburn, a teaching hospital affiliated with Harvard Medical School, Boston, MA 2020–present
Academic Generalist OB-GYN at Beth Israel Deaconess Medical Center, a teaching hospital of Harvard Medical School, Boston, MA, 2018–2020
Summer Research Fellow at the University of Vermont College of Medicine, Burlington, VT, 2011
Orthopedic Medical Assistant specializing in feet and ankles at Fletcher Allen Health Care, Burlington, VT, 2009–2010
Business Analyst for health care projects at Deloitte Consulting, 2007–2009
Presented at the 2006 National Neuroscience Convention in Atlanta, GA
Received a number of awards, including the James E. Demeules Surgical Research Prize, the Carbee Award for Academic Excellence, a Ryan Fellowship for Excellence in family planning, and the Excellence in Minimally Invasive Gynecology award
Fellow of the American Board of Obstetrics and Gynecology and licensed to practice medicine in Massachusetts
Education
Residency in Obstetrics and Gynecology at the University of Vermont Medical Center, Burlington, VT, 2014–2018
Degree in Medicine from the University of Vermont College of Medicine, Burlington, VT, 2014
Bachelor of Arts in Biological Sciences from Bowdoin College, Brunswick, ME, 2007, cum laude
Featured Publications
"Beginning to Optimize Peripartum Care for Somalia-Born Women by Evaluating Labor, Postpartum and Neonatal Outcomes in the Somali Population Delivering at a Tertiary Care Center in Vermont." Journal of Immigrant and Minority Health, vol. 22, no. 5, doi: 10.1007/s10903-020-01008-3.
"Langerhans cell histiocytosis limited to the female genital tract: A review of literature with three additional cases." Gynecologic Oncology Reports, vol. 22, doi: 10.1016/j.gore.2017.08.005.
My Journey in Medicine
Before going to medical school, I got my start in the world of medicine through consultancy projects with pharmaceutical and other health companies at Deloitte. After that, I worked as an orthopedic medical assistant at a major health care center in Burlington, VT, and trained as an EMT with a local emergency medical service in Essex, VT. Today, as an obstetrician-gynecologist, I have the pleasure of meeting so many highly motivated, smart, and resilient patients, and I find this work incredibly rewarding. My specific areas of expertise include family planning, laparoscopic surgery, and public health.
Pregnancy is such a special time in someone's life and to be there to help demystify and support them along the way is an honor. I also enjoy the flexibility of my job, which crosses many facets of my patients' lives, including delivering their babies, helping postmenopausal patients continue to be active and do the things they love, and also performing operations to fix someone's pain. It never gets boring!
At Mount Auburn, I teach medical students and other trainees on the labor & delivery floor and in the operating room. At Beth Israel, I taught resident physicians in the Family Planning Department and in the OR, and I also helped to show them the ropes of assisting patients' journeys on labor & delivery. I am a part of the quality committee at Mount Auburn Hospital, and through my practice I identify ways to improve protocols on labor & delivery and in the operating room and focus on improving the quality of care and outcomes for mothers and their babies. In the past, I've researched optimizing the labor and delivery experience in the Somali population.
As I've seen in my practice, giving patients the power of information and access to care can truly change lives. Knowledge is essential to making good decisions when it comes to your health. It's so gratifying to be able to help provide access to these resources through Flo, which has such a huge user base worldwide. I look forward to continuing to collaborate with this amazing team of medical experts and sharing my expertise as Flo expands!
Fun Facts
I'm an avid runner and lover of the outdoors. In my free time, I enjoy going on hikes with my kids and dog.
Flo Advisory Board of 100+ Doctors, Scientists, and Health Experts
We break down complex medical topics into accessible and digestible information that empowers readers to take action and prioritize their own well-being. Our team of Medical and Scientific Advisors is made up of over 100 certified health experts from a variety of disciplines who ensure that every piece of content we release is medically accurate, understandable, and up-to-date with the latest scientific findings. We rely on medical guidelines from international health organizations and get information from academic institutions and peer-reviewed articles, which is fully described in our Flo Editorial Process and Standards.