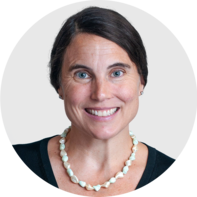 Dr. Jennifer Boyle
Obstetrician and gynecologist, Massachusetts General Hospital, Massachusetts, US
Work Experience: 15+ years in obstetrics and gynecology
"I constantly look for better and more helpful ways to both listen to my patients and explain things so that everyone can make the best health choices for themselves. I'm passionate about helping women better understand their bodies and achieve their personal vision of health and wellness."
Career Highlights
OB-GYN at Massachusetts General Hospital, 2012–present
Licensed to practice medicine in Colorado, Massachusetts, and Rhode Island
Member of the American Board of Obstetrics and Gynecology
Education
Residency in Obstetrics and Gynecology at the University of Colorado, 1998–2002
Degree in Medicine from Rush University Medical College, Chicago, IL, 1998
Bachelor of Arts in Spanish from the University of Notre Dame, IN
My Journey in Medicine
Beginning in my medical training and through to today, I have focused on caring for medically underserved populations and community health within the field of obstetrics and gynecology. My clinical interests lie in prenatal care, labor management, contraception, outpatient hysteroscopy for endometrial polyps, and management of both abnormal pap tests and abnormal uterine bleeding.
Being fluent in Spanish has afforded me the opportunity to connect with and care for a wider range of patients, both at home and abroad. I have had enriching experiences working with women in Botswana, Guatemala, Ecuador, and most recently as a part of the Mass General Disaster Response in Puerto Rico following Hurricane Maria.
Every day in my work, I'm driven to ensure that a patient's whole health needs are met. I know this looks different for each person, so I strive to take a very individualized approach with every patient who comes to see me.
In the Labor and Delivery unit at Massachusetts General Hospital, I work closely with resident doctors and medical students, guiding them through deliveries, surgeries, and all aspects of obstetrical care. In both my teaching at Harvard and my clinical practice, I work to improve communication and collaboration between physicians and patients, especially in low-literacy populations. My overarching goal is to deliver holistic, culturally sensitive, and compassionate health care.
I feel honored to be alongside women and support them through their reproductive lives from adolescence, pregnancy, and childbirth through menopause.
Fun Facts
When I'm not caring for my patients or teaching, I enjoy running, swimming, reading, doing arts and crafts, and spending time with my family.
Flo Advisory Board of 100+ Doctors, Scientists, and Health Experts
We break down complex medical topics into accessible and digestible information that empowers readers to take action and prioritize their own well-being. Our team of Medical and Scientific Advisors is made up of over 100 certified health experts from a variety of disciplines who ensure that every piece of content we release is medically accurate, understandable, and up-to-date with the latest scientific findings. We rely on medical guidelines from international health organizations and get information from academic institutions and peer-reviewed articles, which is fully described in our Flo Editorial Process and Standards.