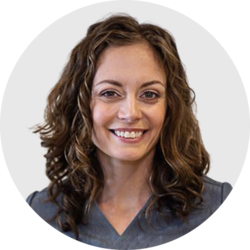 Jennifer Lincoln, MD
OB-GYN, OB Hospitalist, Portland, OR, USA
Work Experience: 9+ years' experience in obstetrics and gynecology
"I love working as an OB-GYN because I get to care for women at some of the most exciting and most difficult times of their lives, and I hope my presence in their lives makes those moments more meaningful. The ability to help a woman understand her body and feel empowered to take charge of her health brings me immense joy."
Jennifer Lincoln, MD, IBCLC, FACOG, is a board-certified generalist obstetrician-gynecologist and attending physician. She primarily works on labor and delivery as an OB hospitalist and loves the excitement and pace this work brings.
Education and Professional Experience
Bachelor of Science in biology, summa cum laude, Washington College (Chestertown, MD)
Medical education at Tulane University School of Medicine (New Orleans, LA)
Residency in Oregon Health and Science University (Portland, OR)
Dr. Lincoln currently serves on the Board of Directors for the Northwest Mothers Milk Bank as well as for the Society of OB-GYN Hospitalists. She is also the Social Media Committee chair for the Society of OB-GYN Hospitalists.
She is an International Board Certified Lactation Consultant (IBCLC).
Passion and Motivation
Dr. Lincoln enjoys educating women about their bodies and their pregnancies and believes social media is the perfect place to share facts and bust myths. She is particularly interested in adolescent medicine, breastfeeding advocacy, and supporting women in labor in an informed, relaxed manner.
"I am driven by the fact that I am constantly learning, and I truly believe that my patients teach me so much every day. The work is hard but so worth it."
Dr. Lincoln is happily married to a pediatrician and has two young sons, who teach her more every day than any textbook could. Her hobbies include hiking and reading for fun.