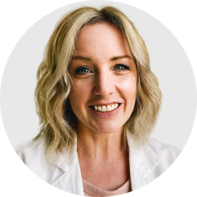 Dr. Katharine C. DeGeorge
Associate professor of family medicine, University of Virginia, Virginia, US
Work Experience: 10+ years in family medicine
"As a family medicine doctor, I am privileged to develop long-term relationships with my patients and their families, which facilitates care of the whole patient, not just their conditions. In my practice, I aim to lift my patients up and make them feel confident in their health management."
Career Highlights
Board-certified Family Medicine Physician
Associate Professor of Family Medicine at the University of Virginia, 2010–present
Deputy editor for a large online evidence-based health care publishing company (DynaMed)
Associate Director of the Family Medicine Residency Program at the University of Virginia, 2017–2021
Authored many publications in peer-reviewed journals, textbooks, and national conferences
Awarded the University of Virginia's Top Performer for outstanding patient care in 2020 and 2021, Best General Practitioner in Charlottesville for five consecutive years from 2015 to 2019, Best Doctors in America award in 2019, Dean's Award for Clinical Excellence in 2016, and several teaching awards at the University of Virginia
Education
Residency in family medicine at University of Virginia, chief resident (final year), 2010–2013
Postdoctoral fellow in translational medicine at Thomas Jefferson University, Philadelphia, PA, 2009–2010
Degree in Medicine from Thomas Jefferson University, 2009
Master of Science from Thomas Jefferson University, 2009
Bachelor of Science in Neuroscience (summa cum laude) from the College of William & Mary, Williamsburg, VA, 2003
My Journey in Medicine
I decided to go into medicine to make sure my patients feel heard so they know that they aren't alone in whatever they are facing. Primary care, specifically family medicine, best allows me to do that because I have the opportunity to partner with my patients throughout their lives, helping with whatever health challenges come up along the way.
During my residency, I became interested in the critical appraisal of medical literature and the teaching of evidence-based medicine. I have since grown that passion into an area of expertise and have taught these skills to many medical students, residents, and fellows. I also put these skills to use as a deputy editor for a leading online clinical database that is focused on providing the most current, evidence-based clinical information to health care providers at the point of care.
I really enjoy being able to collaborate with Flo on their medical content, and I've always been very impressed with how well Flo does their research! All of the information presented comes from reputable resources, and the internal fact-checking process makes my evidence-based heart very happy. Additionally, their emphasis on inclusion and lifting users up wherever they are in their health journey reminds me why I went into medicine in the first place.
Flo Advisory Board of 100+ Doctors, Scientists, and Health Experts
We break down complex medical topics into accessible and digestible information that empowers readers to take action and prioritize their own well-being. Our team of Medical and Scientific Advisors is made up of over 100 certified health experts from a variety of disciplines who ensure that every piece of content we release is medically accurate, understandable, and up to date with the latest scientific findings. We rely on medical guidelines from international health organizations and get information from academic institutions and peer-reviewed articles, all of which is fully described in our Flo Editorial Process and Standards.