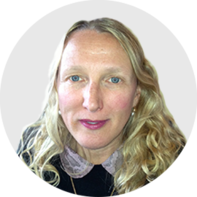 Dr. Kathryn Abel
Professor of psychological medicine, director of the Centre for Women's Mental Health, University of Manchester, UK
Work Experience: 30+ years in mental health research
"I'm fascinated by the study of the mental health of women and mothers. Through my work as a professor, researcher, and clinician, I aim to advance scientific knowledge on these topics and support women around the globe who are going through mental health challenges with empowering and educational resources, especially during the pregnancy and postpartum period."
Career Highlights
Professor of Psychological Medicine and Reproductive Psychiatry at the University of Manchester, UK
Founder and lead of the first UK Centre for Women's Mental Health
Over 100 research publications in peer-reviewed journals, 6 edited books, and several published chapters and abstracts
Frequent speaker at international medical and scientific conferences
Five-year Medical Research Council Research Fellowship
Recipient of a European Research Council Consolidator award
Member of the Royal College of Psychiatry Academic Faculty Executive Committee
National Institute for Health Research Clinical Local Research Network Greater Manchester Division 4 Lead for Dendron, Mental Health, and Neurology
Developed a number of important international research collaborations in Scandinavia, Australia, and the United States
Education
MBBS and PhD from Oxford University, UK
Psychiatry training at the Institute of Psychiatry, Psychology, and Neuroscience, London, UK, 1991–2001
Featured Publications
"Mental health before and during the COVID-19 pandemic: A longitudinal probability sample survey of the UK population." Lancet Psychiatry, vol. 7, no. 10, Oct 2020, doi: 10.1016/S2215-0366(20)30308-4
"Effects of parental mental illness on children's physical health: Systematic review and meta-analysis." The British Journal of Psychiatry, vol. 217, no. 1, Jul 2020, doi: 10.1192/bjp.2019.216
"Neural pathways of maternal responding: Systematic review and meta-analysis." Archives of Women's Mental Health, vol. 22, no. 2, Apr 2019, doi: 10.1007/s00737-018-0878-2
My Journey in Psychology
I'm passionate about advancing scientific research surrounding women's mental health and have particular expertise in areas concerning maternal mental health, gender-sensitive development, and reproductive psychiatry. Other research interests of mine include the origins and spread of neurodevelopmental disorders, the link between a pregnant mother's surroundings and her mental health state, and the health and social outcomes of vulnerable families.
To further support the mental wellness of women and mothers in the United Kingdom, I founded the Manchester Centre for Women's Mental Health, a group of leading researchers on women, families, and mental health conditions. We do clinical projects to work with women in prisons and families dealing with severe mental illness. My colleagues and I also developed an e-learning tool to improve reproductive (and pregnancy-related) health in patients with mental illness, and we are currently assessing its use in clinical settings.
At Flo, I enjoy advising on and reviewing content related to the mental health of mothers. Depression during pregnancy and in the postpartum period is common, and I want to help disseminate evidence-based resources to as many people as possible to support their mental well-being during this important time of transition in their lives.
Flo Advisory Board of 100+ Doctors, Scientists, and Health Experts
We break down complex medical topics into accessible and digestible information that empowers readers to take action and prioritize their own well-being. Our team of Medical and Scientific Advisors is made up of over 100 certified health experts from a variety of disciplines who ensure that every piece of content we release is medically accurate, understandable, and up to date with the latest scientific findings. We rely on medical guidelines from international health organizations and get information from academic institutions and peer-reviewed articles, all of which is fully described in our Flo Editorial Process and Standards.