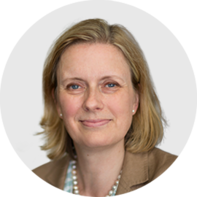 Krina Zondervan, MSc, PhD
Professor of Reproductive and Genomic Epidemiology, Co-Director of the Endometriosis Care and Research Centre, UK
Work Experience: 20+ years' experience in reproductive and genomic epidemiology
Professor of Reproductive & Genomic Epidemiology;
Co-Director of the Oxford Endometriosis CaRe Centre;
Deputy Head of the Nuffield Department of Women's and Reproductive Health, University of Oxford;
Board Member, World Endometriosis Society and World Endometriosis Research Foundation.
Her work focuses in particular on endometriosis and associated symptoms and comorbidities.
She leads a number of global collaborative initiatives in the field of endometriosis research including large-scale studies that have identified genetic variants involved in its development; and the World Endometriosis Research Foundation EPHect initiative that has standardised data and biological sample collection in endometriosis research globally.
Professor Zondervan is a member of various charity and advisory boards in the field of women's health, including the World Endometriosis Society and the World Endometriosis Research Foundation, is one of the most highly cited authors in reproductive sciences, and in 2013 was recognised as Outstanding Female Scientist (AcademiaNet, Wellcome Trust nomination).