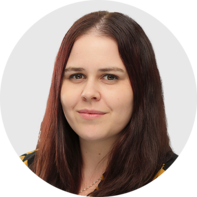 Kym Jacks-Bryant, BSc
Director of medical affairs and partnerships, Flo Health Inc., UK
Work Experience: 10+ years in pharmaceutical digital marketing and healthtech
"What really motivates me is the opportunity to solve a problem or discover a better way to get something done. Technology allows me to bring those "eureka" moments to real people. I love to challenge the norm and ask 'Why not?'"
Career Highlights
Head of the Digital Centre of Excellence, Norgine, London, UK, 2020–2022
Global digital marketing lead at Norgine, London, UK, 2017–2020
Digital content lead, Norgine, London, UK, 2016–2017
Marketing operations manager, Takeda Pharmaceuticals, UK, 2014–2016
Winner of the Pharma Digital Partner Award, Pharmaceutical Marketing Society, 2018
Regular speaker and panelist at a variety of national and international industry events
Head of development of a multiple award-winning app to monitor cognitive function in patients at home
Education
ABPI IQ Level 3 Diploma in the promotion of medicines, 2013
CIM Level 6 Diploma in professional marketing (digital strategy)(HL) with merit, 2015
Professional Scrum master
Bachelor of Science in bioveterinary science from the Royal Veterinary College, University of London, 2012
My Journey in Medicine
Ever since I was little, I wanted to be a veterinarian. But I quickly discovered the reality of the profession was not just cuddling baby animals and that it wasn't the right place for me. Instead, I found an interest in the sales representatives visiting the vet practice. That interest drove me to start a career in pharmaceutical marketing on a 3-month contract. I immediately loved it! During that time, I discovered my passion for all things digital and the amazing things that tech can do for both patients and health care professionals.
In my marketing roles in the pharma industry, my goal was to get the business to believe, like I do, that digital tools can provide so much value for the health care ecosystem. At Norgine, I led the development of a class I medical device app for patients to preventively detect changes in cognitive function.
I love technology — playing with code or back-end systems is a favorite pastime of mine. I've been known to create the odd website or code snippet for efficiency and aim to cement my understanding in the world of tech.
It's so exciting for me to join Flo as the director of medical affairs and partnerships. I am amazed at the empowerment available to women through the app. Being part of driving innovation in femtech and women's health awareness is inspiring.
Fun Facts
When I need to get away from all the screens in life, I love to knit. My most complicated piece was a shawl that took over 87,000 stitches.
Flo Advisory Board of 100+ Doctors, Scientists, and Health Experts
We break down complex medical topics into accessible and digestible information that empowers readers to take action and prioritize their own well-being. Our team of Medical and Scientific Advisors is made up of over 100 certified health experts from a variety of disciplines who ensure that every piece of content we release is medically accurate, understandable, and up-to-date with the latest scientific findings. We rely on medical guidelines from international health organizations and get information from academic institutions and peer-reviewed articles, which is fully described in our Flo Editorial Process and Standards.