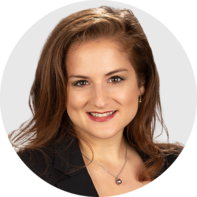 Dr. Lydia Fein
Obstetrician and gynecologist, assistant professor and director, University of Miami Miller School of Medicine, Florida, US
Work Experience: 5+ years in obstetrics, gynecology, and gender-affirming care
"Whether through my research or my role as an educator, obstetrician, and gynecologist, I am constantly striving to improve the quality of care for LGBTQ+ patients. We all deserve to feel well in our bodies, and through my work, I aim to ensure that more gender-diverse people get the gender-affirming health care they need and deserve."
Career Highlights
Assistant professor and director of the transgender health program in the department of obstetrics, gynecology, and reproductive sciences at the University of Miami Miller School of Medicine, FL, US
Grant-funded researcher in the field of gender-affirming medicine and surgery
Author of over 15 published articles in leading peer-review medical journals as well as several book chapters on LGBTQ care and gynecology
Frequent presenter at national and international meetings on the topic of gender-affirming care
Member of the World Professional Association for Transgender Health
Fellow of the American Academy of Dermatology and American College of Obstetricians and Gynecologists
Education
Residency in obstetrics and gynecology at the University of Miami, Jackson Memorial Hospital, FL, US
Doctorate and master's degrees in public health from the University of Miami, Miller School of Medicine, FL, US
Bachelor's degree in science from Georgetown University, Washington, DC, US
Featured Publications
"Lost Opportunities for Mismatch Repair (MMR) Screening among Minority Women with Endometrial Cancer." Scientific Reports, vol. 11, no. 1, 2021, doi: 10.1038/s41598-021-91053-1.
"Applying Concurrent Multidisciplinary Care to Gender Affirmation in Transgender Women: A Case Series." Clinical Case Reports, vol. 8, no. 11, 2020, doi: 10.1002/ccr3.3134.
"Supersonic Transporter Deformity in Transgender Men Following Phalloplasty." Plastic and Reconstructive Surgery, vol. 144, no. 1, 2019, doi: 10.1097/PRS.0000000000005749.
"Sexual Preferences and Partnerships of Transgender Persons Mid- or Post-Transition." Journal of Homosexuality, vol. 65, no. 5, 2018, doi: 10.1080/00918369.2017.1333808.
"Risk Factors for Anal Dysplasia in Transgender Women: A Retrospective Chart Review." Journal of Lower Genital Tract Disease, vol. 22, no. 4, 2018, doi: 10.1097/LGT.0000000000000396.
My Journey in Medicine
My choice to work in the realm of transgender health was based on a passion I developed while still a medical student. At the time, this field was vastly uncharted territory, but I was fortunate to have mentors who opened my eyes to the much-needed care these patients deserved but often did not receive. From that point forward, I devoted my career to providing care to gender-diverse patients and advancing the field of gender-affirming health.
I lead the transgender health program within my department at the Miller School of Medicine at the University of Miami, where I specialize in the medical and surgical care of gender-diverse patients. I offer both hormone therapy and a range of gender-affirming surgeries. In addition to my research and teaching, I aim to shape the future of medical care for the LGBTQ+ community by contributing to the medical curricula in the fields of gender and sexuality.
My ongoing projects include a Center for AIDS Research pilot grant award to study the HIV risk of transgender women who have undergone gender-affirming vaginoplasty and a study of postoperative pain in transgender men undergoing hysterectomy.
I am excited and honored to be a part of Flo's medical board to help the app serve the large LGBTQ+ community around the world and ensure that everyone who menstruates feels informed, empowered, and supported.
Flo Advisory Board of 100+ Doctors, Scientists, and Health Experts
We break down complex medical topics into accessible and digestible information that empowers readers to take action and prioritize their own well-being. Our team of Medical and Scientific Advisors is made up of over 100 certified health experts from a variety of disciplines who ensure that every piece of content we release is medically accurate, understandable, and up-to-date with the latest scientific findings. We rely on medical guidelines from international health organizations and get information from academic institutions and peer-reviewed articles, which is fully described in our Flo Editorial Process and Standards.