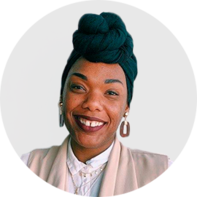 Minaa B
Psychologist and mental health educator, New York, US
Work Experience: 5+ years in psychotherapy
"I'm committed to teaching individuals how to advocate for themselves to support their mental health and bring forth healing. Specifically, I aim to inspire others to cultivate self-care through the lens of boundary setting and caring for the community."
Career Highlights
Therapist, New York City, NY
Contributing writer for Well+Good
Co-host of the podcast, Because Life with Sydel Curry-Lee
Featured in a number of media outlets, such as The Today Show, BBC, Essence, and more
Education
Master's degree in social work from New York University, 2012–2014
Bachelor of Business Administration from Briarcliffe College, New York, 2008–2010
Featured Publications
Rivers Are Coming: Essays and Poems on Healing. CreateSpace Independent Publishing Platform, 2016.
My Journey in Psychology
I'm a mental health professional, wellness coach, writer, and educator with a passion for emotional wellness and social justice. I teach that the relationships we build with ourselves are fundamental to shaping those we cultivate with others. To support well-being, I focus on building self-care practices and forming meaningful connections with others, as I believe these are vital to thriving. Interdependence over independence, that's my motto.
Following my own experiences navigating mental health, I found my passion for the field of psychology and my drive to help others on their personal journeys. In my clinical practice, I helped those struggling with depression and anxiety as well as childhood and racial trauma. I also enjoy providing free mental health education on my Instagram account to a community of 180,000 people — you can find me at @minaa_b. Additionally, I facilitate workshops, provide corporate coaching, and present at speaking engagements on the topics of self-care and mental well-being.
I love to share my knowledge and support others through my writing and regularly contribute to the wellness page Well+Good and Flo! My goal is to reach as many people as possible with empowering information about their mental health so they know that they aren't alone in whatever they're going through.
Flo Advisory Board of 100+ Doctors, Scientists, and Health Experts
We break down complex medical topics into accessible and digestible information that empowers readers to take action and prioritize their own well-being. Our team of Medical and Scientific Advisors is made up of over 100 certified health experts from a variety of disciplines who ensure that every piece of content we release is medically accurate, understandable, and up to date with the latest scientific findings. We rely on medical guidelines from international health organizations and get information from academic institutions and peer-reviewed articles, all of which is fully described in our Flo Editorial Process and Standards.