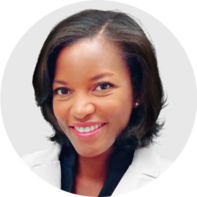 Dr. Nianda Reid
Dermatologist, Embrace Dermatology and Aesthetics, Pennsylvania, US
Work Experience: 10+ years in dermatology
"I am passionate about general medical dermatology and working to improve skin health in my patients."
Career Highlights
Co-owner of Embrace Dermatology and Aesthetics, Philadelphia, PA
Presentations at national dermatology conferences
Two articles published in peer-reviewed journals
Diplomate of the American Board of Dermatology; Fellow of the American Academy of Dermatology; and member of the American Society for Dermatologic Surgery, The Skin of Color Society, and the Women's Dermatologic Society
Education
Residency in Dermatology at Brown University — Rhode Island Hospital, Chief Resident, Providence, RI, 2011–2014
Doctor of Medicine and Master of Business Administration in Health Sciences Management from William E. Simon Graduate School of Business at the University of Rochester, NY, 2010
Degree in Medicine from the University of Rochester School of Medicine and Dentistry, NY, 2010
Bachelor of Arts in Chemistry from the University of Rochester, NY, 2005
Featured Publications
"Vulval Crohn disease: A case series of 26 patients." Australasian Journal of Dermatology, 11 Dec. 2018, vol. 60, no. 3, doi: 10.1111/ajd.12972
"Worsening of contact dermatitis by oral hydroxyzine: a case report." Dermatology Online Journal, 15 Feb. 2013, vol. 19, no. 2, PMID: 23473274
My Journey in Medicine
I was attracted to dermatology because it's such a versatile field of medicine. It allows me to combine multiple specialties in one: general medicine, surgery, pathology, rheumatology, infectious disease, pediatrics, and geriatrics. Because of this, the specialty is ever-evolving and fulfilling.
I specialize in medical, surgical, and cosmetic dermatology, including injectables and laser dermatology. At my practice in Philadelphia, we treat a wide variety of skin conditions, such as acne, actinic keratoses, alopecia areata, atopic dermatitis, and benign skin growths.
My career has brought me to exciting projects around the world — I've done research and volunteered in New York, London, South Africa, Malawi, and Australia, which was amazing for me because I simply love to travel!
I also enjoy giving helpful advice to people through various online platforms. For instance, I've been featured as a skin care expert by Women's Health Magazine, Byrdie, and Cosmopolitan. At Flo, I advise on different dermatological topics to help our millions of users achieve their skin goals.
Flo Advisory Board of 100+ Doctors, Scientists, and Health Experts
We break down complex medical topics into accessible and digestible information that empowers readers to take action and prioritize their own well-being. Our team of Medical and Scientific Advisors is made up of over 100 certified health experts from a variety of disciplines who ensure that every piece of content we release is medically accurate, understandable, and up to date with the latest scientific findings. We rely on medical guidelines from international health organizations and get information from academic institutions and peer-reviewed articles, all of which is fully described in our Flo Editorial Process and Standards.