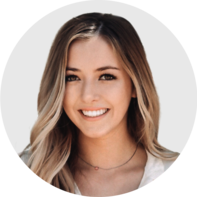 Rainey Horwitz, MS
Sexual science researcher and educator, Missouri, US
Work Experience: 3+ years in digital sex education
"Medical students get less than eight hours of sex education on average — this needs to change! My work centers around normalizing sex and pleasure-informed conversations in medicine. When doctors are better prepared to talk about sex with patients, we can help remove the stigma and shame from society."
Career Highlights
Labor of Love Elective Coordinator, Certified Trained Doula, and Queer Health Curriculum Speaker at Saint Louis University School of Medicine, MO, 2020–present
Researcher of the history and philosophy of sex and science at the Center for Biology and Society at Arizona State University
Leading researcher, writer, and editor of scientific articles for The Embryo Project, a peer-reviewed publication within the Center for Biology and Society at Arizona State University
Campus Ambassador for The Rivkin Center for Ovarian Cancer, 2017–2018
Recipient of the Biology and Society Unusual Student Project Award Grant from Arizona State University School of Life Sciences; the American Association for the Advancement of Science Section L Grant; and Saint Louis University School of Medicine Academic Scholarship
Education
Medical degree at Saint Louis University School of Medicine, MO, graduation year 2023
Master of Science in Biology and Society from the Arizona State University College of Liberal Arts and Sciences (Barrett Honors College), Tempe, AZ, 2019
Bachelor of Science in Biology from the Arizona State University College of Liberal Arts and Sciences (Barrett Honors College), Tempe, AZ, 2018
Featured Publications
"Medical Vibrators for Treatment of Female Hysteria." The Embryo Project Encyclopedia, Feb 2020. ISSN: 1940-5030 http://embryo.asu.edu/handle/10776/13147
"Some of the Uses of Electricity in Gynecology," (1901) by William Henry Walling. Embryo Project Encyclopedia, Jan 2020. ISSN: 1940-5030 http://embryo.asu.edu/handle/10776/13144
"Vaginal Speculum (after 1800)." Embryo Project Encyclopedia, Oct 2019. ISSN: 1940-5030 http://embryo.asu.edu/handle/10776/13133
My Journey in Sex Education
Before beginning my medical education, I was a history and philosophy of sex and science researcher for nearly four years. My research focused on how factors like gender expectations, medical misconceptions, and moral traditions shaped women's reproductive medical care in America, specifically since the 1800s. Getting lost in the investigation of the science of sex, and society's impulse to censor it, was my main motivation for entering the field of medicine.
Once in med school, I realized how little future doctors are taught about sexual health. My goal is to educate medical trainees and professionals about sexual dysfunction, desire, and female sexual anatomy, so they are better equipped to promote positive, healthier sex practices among patients.
At the beginning of the coronavirus pandemic, I started my Instagram page, @sexplained.med, as a passion project, and my community has grown to 15K since. My content is evidence-based, shame-free, medical sex education. I talk about anything relating to sex medicine and my research, and I share educational videos. Through my platform, I also enjoy networking and collaborating with women's health physicians and health care providers across the country.
Additionally, I have been invited as a guest on several podcasts to speak about my work as an online sex educator. I also do promotional media work with sex positive brands that align with my values and goals in treating sexual dysfunction.
I am greatly honored to work with Flo because they prioritize creating reliable health information that is accessible for the everyday person and free of medical jargon. Flo's commitment to using medical professionals and getting the most researched, up-to-date information for their followers is extremely applaudable!
Flo Advisory Board of 100+ Doctors, Scientists, and Health Experts
We break down complex medical topics into accessible and digestible information that empowers readers to take action and prioritize their own well-being. Our team of Medical and Scientific Advisors is made up of over 100 certified health experts from a variety of disciplines who ensure that every piece of content we release is medically accurate, understandable, and up to date with the latest scientific findings. We rely on medical guidelines from international health organizations and get information from academic institutions and peer-reviewed articles, all of which is fully described in our Flo Editorial Process and Standards.