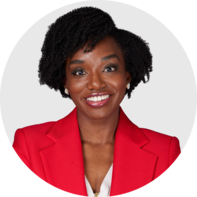 Dr. Renita White
Obstetrician and gynecologist, Georgia Obstetrics and Gynecology, Georgia, US
Work Experience: 5+ years in obstetrics and gynecology
"I have a passion for women's health and wellness. In particular, I love helping women feel comfortable and confident with taking ownership over their bodies and health needs. I appreciate being able to do this in my medical office, in the operating room, and outside of the office through my podcast, written articles, and video content."
Career Highlights
Obstetrician and gynecologist, Georgia Obstetrics and Gynecology, Atlanta, GA, 2017–present
Attending physician, Northside Hospital Atlanta, Sandy Springs, GA
Freelance contributor on health, wellness, and pregnancy topics, 2021–present
Medical review board member for Verywell Health
Cocreator and cohost of the "Cradle & All" podcast
Board certified in obstetrics and gynecology from the American Board of Obstetrics and Gynecology
Fellow of the American College of Obstetrics and Gynecologists
Congressional Hunger Fellow, focused on the impact of nutrition and food disparities on chronic illness, Washington, DC, 2008–2009
Education
Residency in obstetrics and gynecology, Emory University College of Medicine, Atlanta, GA, 2013–2017
Medical degree, The Ohio State University College of Medicine, 2009–2013
Bachelor of Arts in women's studies and psychology, Duke University, Durham, NC, 2004–2008
Featured Publications
"Predictors of a More Effective Contraceptive Method Use at 12 Weeks Post-Abortion: A Prospective Cohort Study." Journal of Women's Health, vol. 28, no. 5, May 2019, pp. 591–599, doi: 10.1089/jwh.2018.7210.
"I've Never Been Pregnant Before. Does That Mean I Am Not Able to Get Pregnant?" TheGrio, 3 Jan. 2021, https://thegrio.com/2022/01/03/fertility-pregnant-guidance/.
"Gynecologist's Guide: Period Products You Should Know About." TheGrio, 21 Dec. 2021, https://thegrio.com/2021/12/21/gynecologist-guide-period-products-you-should-know-about/.
"How Do I Clean … Down There? A Gynecologist's Guide to Feminine Care." TheGrio, 16 Dec. 2021, https://thegrio.com/2021/12/16/gynecologists-guide-to-feminine-care/.
"5 Tips to Keep You Sane and Stress-Free This Holiday Season." TheGrio, 24 Dec. 2021, https://thegrio.com/2021/12/24/5-tips-to-keep-you-sane-and-stress-free-this-holiday-season/.
My Journey in Medicine
For as long as I can remember, I have gravitated toward women's health. As an OB-GYN, I love caring for women in all stages of life. Whether entering adulthood or transitioning into menopause, wellness is always a key part of our health. My goal is to inspire women to take autonomy of their health and wellness, focus on daily self-care practices, and educate on common women's health topics.
I see patients with a variety of conditions, including fibroids, irregular vaginal bleeding, abnormal Pap smears, infertility, and menopause. As a health care expert, I strive to educate women about their bodies and encourage them to address their physical and emotional health to improve overall wellness.
Outside of the hospital, I cohost a podcast with my sister called "Cradle & All." We record biweekly episodes on all things motherhood and womanhood. Balancing relationships, work, and wellness while raising little ones can be a real challenge, so we share all of our tips from our personal experiences to help our listeners feel more understood and supported in their daily life. I also publish and collaborate on health-related content and articles for a variety of platforms.
It's really exciting for me to join Flo's medical advisory board so I can utilize my knowledge about women's health to educate and inspire users all over the world to take good care of their overall well-being.
Fun Facts
When I'm not working, I enjoy traveling, trying new restaurants, and anything that sparkles. I spend most of my time running after my 4-year-old and 1-year-old sons, spending time with my husband, and catching up with girlfriends when I get a chance.
Flo Advisory Board of 100+ Doctors, Scientists, and Health Experts
We break down complex medical topics into accessible and digestible information that empowers readers to take action and prioritize their own well-being. Our team of Medical and Scientific Advisors is made up of over 100 certified health experts from a variety of disciplines who ensure that every piece of content we release is medically accurate, understandable, and up-to-date with the latest scientific findings. We rely on medical guidelines from international health organizations and get information from academic institutions and peer-reviewed articles, which is fully described in our Flo Editorial Process and Standards.