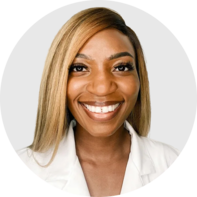 Dr. Ruth Arumala
Obstetrician and gynecologist, gynecologic and cosmetic surgeon, Texas, US
Work Experience: 5+ years in obstetrics and gynecology
"My life's work as a surgeon, physician, advocate, friend, and confidant to my patients drives me. I want to make a difference by equipping them with the knowledge to recognize normalcy and abnormalities concerning their health so they can advocate for themselves."
Career Highlights
Private practice OB-GYN associated with Huguley Medical Associates, Mansfield, TX, 2019–2021
Member of the American College of Obstetricians and Gynecologists, the American Association of Gynecologic Laparoscopists, and the North American Menopause Society
Certified in two minimally invasive approaches to fibroid management: Acessa and Sonata
Education
Fellowship in facial and general cosmetic surgery at American Academy of Cosmetic Surgery, Bellevue, WA
Residency in obstetrics and gynecology at Medstar Georgetown University Hospital, Washington, DC
Medical degree from Rowan University School of Osteopathic Medicine, Stratford, NJ
Master of Science in Public Health from Mercer University, Macon, GA
Bachelor of Science in cellular and molecular biology/genetics and psychology
My Journey in Medicine
I was drawn to pursue a career in medicine from a young age, developing an interest for the anatomy of the human body, pathogens, and toxins early on. I was also inspired by my mother, who returned to train as a resident physician at age 51 to enable her to practice medicine in America after immigrating from Nigeria. As I started my residency in obstetrics and gynecology, I learned firsthand about the racial disparities in women's health and found my purpose to become both a provider and changemaker in this area of medicine.
While I was studying medicine, I decided to found a private gynecological practice one day, inspired by my personal gynecologist. Balancing being a provider and a business owner is definitely a challenge at times. However, the ability to provide accessible, evidence-based, and personalized care to patients who come from a variety of socioeconomic backgrounds makes the long hours so worth it. Each day, I'm driven to make a real difference in the lives of my patients. I offer comprehensive women's health services and specialize in the medical and surgical management of fibroids, polycystic ovary syndrome, infertility, sexual dysfunction, and menopause. I believe in a patient-centered approach to care, treating each patient as a whole, not just their conditions.
I'm passionate about empowering my patients to help them make healthier choices and live happier, more fulfilling lives. Beyond practicing medicine, I am the hostess of the Pretty in Pink Podcast, where I invite experts to discuss all things women, from love, sex, and relationships to gynecological conditions like endometriosis and fibroids. I also share knowledge about women's health to thousands of followers on my Instagram, @i.am.dr.arumala. Through these channels, I strive to discuss health and lifestyle topics in an approachable and understandable way, giving advice through tangible takeaways.
My overarching goal is to improve health literacy. Being an OB-GYN consultant for Flo helps me accomplish this by spreading valuable health information to people everywhere.
Flo Advisory Board of 100+ Doctors, Scientists, and Health Experts
We break down complex medical topics into accessible and digestible information that empowers readers to take action and prioritize their own well-being. Our team of Medical and Scientific Advisors is made up of over 100 certified health experts from a variety of disciplines who ensure that every piece of content we release is medically accurate, understandable, and up to date with the latest scientific findings. We rely on medical guidelines from international health organizations and get information from academic institutions and peer-reviewed articles, all of which is fully described in our Flo Editorial Process and Standards.