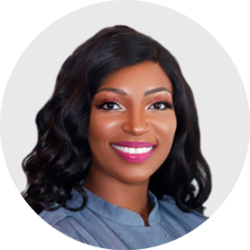 Ruth Arumala, MD
OB-GYN associated with Huguley Medical Associates in Mansfield, TX, USA
Work Experience: 6+ years' experience in obstetrics and gynecology
"My life's work as a surgeon, physician, advocate, friend, and confidant to my patient is my main driver. I aim to equip them to be able to recognize normalcy and abnormalities in their physiology. I desire to prepare them to be able to advocate for themselves. I want to make a difference."
Dr. Ruth Arumala, DO, MPH, NCMP, is certified in two minimally invasive approaches to fibroid management: Acessa and Sonata.
Memberships
Member of American College of Obstetricians and Gynecologists
American Association of Gynecologic Laparoscopists
North American Menopause Society
Education
Dr. Arumala completed her undergraduate studies with two Bachelor of Science degrees in Cellular and Molecular Biology/Genetics and Psychology while maintaining honors.
She then earned a Master of Public Health Degree at Mercer University. Subsequently, she received her medical degree from Rowan University School of Medicine.
She matriculated into and graduated from OB-GYN specialty training at the Georgetown University/Medstar Washington Hospital Center residency program.
Passion and Motivation
Dr. Arumala has a patient-centered approach to health care. She believes in treating women as a whole, not just their conditions. She has a passion to not only provide evidence-based health care but to empower women to make healthier choices that enable them to live happier, more fulfilling lives.
"Mansfield, Texas is a rapidly growing suburb nestled between the twin cities of Dallas and Fort Worth. Central to this expansion are women ages 15–45 who need reproductive health, education, and services. This affords me the ability to provide personalized, evidence-based care to the women of my community."
In addition to patient care, Dr. Arumala is the hostess of the Pretty in Pink Podcast. From love, sex, and relationships to managing personal finances, Dr. Arumala interviews inspirational expert guests who explore a broad range of topics that affect women. She also serves in a number of organizations as a women's health expert and contributor because she wants to improve health literacy.