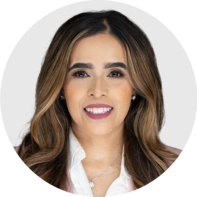 Dr. Sameena Rahman
Obstetrician and gynecologist, clinical assistant professor, Northwestern Feinberg School of Medicine, Illinois, US
Work Experience: 15+ years in obstetrics and gynecology
"I chose women's sexual health because it's my passion to educate and empower women about their health care. With how difficult it is to navigate the health care system and so much misinformation and stigma around women's sexual health, it's important to disseminate evidence-based information to women so that they do not become victims of predatory industries who prey on their insecurities."
Career Highlights
Clinical assistant professor of obstetrics and gynecology at the Northwestern Feinberg School of Medicine, Chicago, IL
OB-GYN and owner of her private practice, Center for Gynecology and Cosmetics, Chicago, IL
OB-GYN at Northwestern Memorial Hospital, Chicago, IL, 2010–Present
Clinical assistant professor at the NorthShore University HealthSystem, Chicago, IL, 2009–2011
Clinical assistant professor at the Keck School of Medicine at the University of Southern California, Los Angeles, 2005–2009
One of the few physicians nationally to be named an International Society for the Study of Women's Sexual Health Fellow
Member of the International Pelvic Pain Society, the American Congress of Obstetricians and Gynecologists, the American College of Aesthetic and Cosmetic Physicians, and the International Society for the Study of Vulvovaginal Disease, and Fellow of the American College of Obstetrics and Gynecology
Certified Menopause Physician through the North American Menopause Society
Education
Residency in obstetrics and gynecology at the University of Massachusetts Medical School, chief resident, Worcester, MA
Degree in Medicine from the University of North Carolina at Chapel Hill School of Medicine, Chapel-Hill, NC
Bachelor of Science in biology from Duke University, with focuses also in Islamic studies and women's studies, Durham, NC
Featured Publications
"Female sexual dysfunction among Muslim women: Increasing awareness to improve overall evaluation and treatment." Sexual Medicine Reviews, vol. 6, no. 4, Oct 2018, doi: 10.1016/j.sxmr.2018.02.006
"Impact of laparoscopic experience on performance on laparoscopic training drills among obstetrics and gynecology residents: A pilot study." Journal of Minimally Invasive Gynecology, vol. 16, no. 1, Jan–Feb 2009, doi: 10.1016/j.jmig.2008.09.609
My Journey in Medicine
As an OB-GYN, clinical researcher, and professor, I aim to provide evidence-based, de-stigmatizing information about women's reproductive and sexual health as well as reduce implicit gender and cultural bias in medicine. There are so many historical taboos surrounding the female body. I'm passionate about increasing awareness and greater cultural understanding of topics such as menstruation, sexual dysfunction, chronic pelvic pain, postpartum care, and menopause.
As a South Asian–American Muslim mother of three, I have a special interest in researching these areas within the Muslim population, which has been underserved both in the United States and abroad, in addition to caring for moms in the fourth trimester. During my time in Los Angeles, I also explored areas of aesthetic medicine, with training in anti-aging treatments, laser technology, and aesthetic vaginal procedures to enhance sexual health.
Professionally, my patients drive me to always do better. I treat so many complex conditions that it's important to keep up with the latest evidence and cutting-edge procedures to enable me to provide the best possible care. In between running my practice, conducting research, and teaching medical students and resident doctors at Northwestern, I enjoy reading literature and attending conferences about women's sexual health to always stay up to date. My top priority is to help my patients have the best quality of life, and I do that by delivering high-quality health care with empathy and cultural sensitivity.
My dedication to women's health care has taken me on medical missions around the globe. I worked for the World Health Organization in Geneva, Switzerland, and have completed projects with a variety of international women's organizations.
I feel a general calling to serve those in need, educate, and debunk myths. On my Instagram channel, @gynogirl, I answer questions and advocate for female health. I've also published articles in Scientific American about cultural bias in medicine and why many women don't receive the postpartum care they deserve.
I'm so excited to be an OB-GYN consultant for Flo and love working on different projects together with the amazing crew here. In 2020, I filmed the app course entitled, Sex: Make a Baby & Make It Fun, answering the many questions I routinely get about sex and conception.
Flo Advisory Board of 100+ Doctors, Scientists, and Health Experts
We break down complex medical topics into accessible and digestible information that empowers readers to take action and prioritize their own well-being. Our team of Medical and Scientific Advisors is made up of over 100 certified health experts from a variety of disciplines who ensure that every piece of content we release is medically accurate, understandable, and up to date with the latest scientific findings. We rely on medical guidelines from international health organizations and get information from academic institutions and peer-reviewed articles, all of which is fully described in our Flo Editorial Process and Standards.