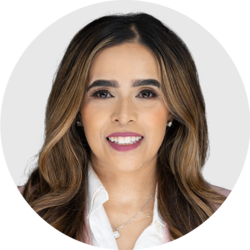 Sameena Rahman, MD
Obstetrician-Gynecologist, Clinical Assistant Professor, Northwestern Feinberg School of Medicine, IL, US
Work Experience: 15+ years' experience in gynecology
"I chose women's sexual health because it's my passion to educate and empower women about their health care. With how difficult it is to navigate the health care system and so much misinformation and stigma around women's sexual health, it's important to disseminate evidence-based information to women so that they do not become victims of predatory industries who prey on their insecurities."
Sameena Rahman is an owner of her practice, Center for Gynecology and Cosmetics and clinical assistant professor in the department of obstetrics and gynecology at the Northwestern University Feinberg School of Medicine.
Education and professional experience
Sameena spent most of her life in the southern part of the US and graduated from Duke University for her undergraduate degree and the University of North Carolina at Chapel Hill for medical school.
She is a graduate of the OpEd Project's Public Voices Fellowship at Northwestern University.
Prior to starting her practice, Sameena worked at the Northshore University HealthSystem and was a clinical assistant professor at the University of Southern California for five years.
Certifications and memberships
North American Menopause Society-certified menopause practitioner
International fellow with the International Society for the Study of Women's Sexual Health
Member of the International Pelvic Pain Society
Member of the Sexual Medicine Society of North America
She is dedicated to women's health care internationally. Prior to having children, Sameena traveled on medical missions for women across the globe and worked for a small period of time at the World Health Organization in Geneva, Switzerland.
Research focus
Sameena has a special research interest in sexual dysfunction and pain in populations that are underserved and have cultural stigmas attached, such as Muslim women. She has researched and published in this area.
She has also spoken and written about implicit bias in medicine and is working to destigmatize menstruation and female sexual health.
Passion and motivation
Sameena is also passionate about fourth-trimester care and helping women navigate the changes that occur to their body after delivery.
As a mother of three who's lived through this, she is determined to help to eliminate the issues and the loneliness that women might have postpartum.
"Professionally, my patients drive me to do better. I attend conferences and keep up with cutting-edge procedures and literature so that I can provide them the best evidence-based care. I treat so many complex conditions that you have to stay on top of the latest evidence for the sake of your patients and to improve women's sexual health."