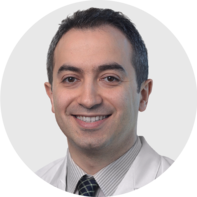 Dr. Samir Babayev
Assistant professor of obstetrics and gynecology, Mayo Clinic School of Health Sciences, Minnesota, US
Work Experience: 10+ years in obstetrics and gynecology
"Being a fertility specialist allows me to treat patients at some of the most personal and vulnerable moments of their lives. I have the privilege of getting to know my patients while helping them build their families."
Career Highlights
OB-GYN Clerkship Director at Mayo Clinic School of Health Sciences, Rochester, MN, 2021–present
In Vitro Fertilization Clinic Director at Mayo Clinic, Rochester, MN, 2019–present
Assistant Professor of Obstetrics and Gynecology and Senior Associate Consultant in the Division of Reproductive Endocrinology and Infertility (REI), Department of Obstetrics and Gynecology at Mayo Clinic School of Health Sciences, Rochester, MN
Associate Editor for Human Reproduction, one of the top scientific journals in the field of reproductive medicine, 2018–present
Assistant Professor at University of Texas Southwestern Medical Center in the REI Department, 2016–2019 and Associate REI Fellowship Program Director, 2017–2019
Recipient of multiple awards, including membership in the Gold Humanism Honor Society in 2021, Texas Rising Stars in 2019, APGO Resident Scholar Award and Best Resident Award in 2013, and the Medical Student Teaching Award at New York Medical College in 2012
Fellow of the American Congress of Obstetricians and Gynecologists, member of the Society for Reproductive Investigation and the American Society for Reproductive Medicine
Board-certified in obstetrics and gynecology and reproductive endocrinology and infertility
Contributor to multiple scientific journals
Published 11 peer-reviewed articles
Education
Fellowship in Reproductive Endocrinology and Infertility at the University of Texas Southwestern Medical Center at Dallas, 2013–2016
Residency in Obstetrics and Gynecology at Westchester Medical Center, New York Medical College, 2009–2013
Postdoctoral Research Fellow at New York Medical College, 2008–2009
Degree in Medicine from Istanbul University, School of Medicine, Turkey, 2007
Pre-medical degree at Azerbaijan Medical University, Baku, 2001–2003
Featured Publications
"Outcomes of embryo transfers performed by Reproductive Endocrinology and Infertility fellows vs. faculty: an 11-year retrospective review." Fertility and Sterility, 18 Sep 2021, doi: 10.1016/j.fertnstert.2021.08.044
"Delaying Reproductive Aging by Ovarian Tissue Cryopreservation and Transplantation: Is it Prime Time?" Trends in Molecular Medicine, vol. 27, no. 8, Aug 2021, doi: 10.1016/j.molmed.2021.01.005
"Obstetric outcomes in pregnancies resulting from in vitro fertilization are not different in fertile, sterilized women compared to infertile women: A Society for Assisted Reproductive Technology database analysis." Fertility and Sterility, vol. 115, no. 3, Mar 2021, doi: 10.1016/j.fertnstert.2020.09.163
My Journey in Medicine
When I started clinical rotations in medical school, I quickly realized that reproductive medicine was my calling. A fertility specialist sees patients during one of the most personal times of their lives — when they have difficulty conceiving a child. I am driven every day to provide the best quality care for each woman and couple who comes in to see me so they can build their dream family.
My specific areas of clinical and research expertise include fertility treatments, preimplantation genetic testing, gynecologic surgery, and treatment of conditions like polycystic ovarian syndrome, uterine fibroids, and endometriosis.
In my day-to-day life, I enjoy working closely with and learning from my peers and assisting those who are junior to me. Mentoring medical students, residents, and fellows is especially gratifying. Helping them grow by teaching them concepts related to patient care and research makes me want to come to work every day.
Going through fertility treatments can be a particularly stressful process, so I aim to be patient, caring, and sensitive, allaying any fears and doubts that pop up along the way. I educate my patients about all of their options so they can choose the procedures that best fit their body and fertility goals.
It's great to be here collaborating with experts at the top mobile product for women's health, helping spread useful information about reproductive health around the globe.
Flo Advisory Board of 100+ Doctors, Scientists, and Health Experts
We break down complex medical topics into accessible and digestible information that empowers readers to take action and prioritize their own well-being. Our team of Medical and Scientific Advisors is made up of over 100 certified health experts from a variety of disciplines who ensure that every piece of content we release is medically accurate, understandable, and up-to-date with the latest scientific findings. We rely on medical guidelines from international health organizations and get information from academic institutions and peer-reviewed articles, which is fully described in our Flo Editorial Process and Standards.