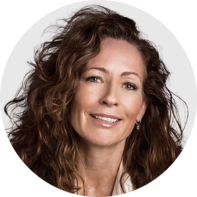 Dr. Sara Matthews
Consultant gynecologist and subspecialist in reproductive medicine and surgery, The Portland Hospital for Women and Children, UK
Work Experience: 20+ years in obstetrics and gynecology
"Good communication is a key element of being a doctor — being able to put patients at ease and getting to know them helps strengthen that very special relationship. Every day, working in this field brings its own set of challenges, but most of my work causes me to feel immense joy in being able to diagnose and solve problems for women of all ages."
Career Highlights
Consultant and reproductive physician in private practice at The Portland Hospital for Women and Children, London, UK, 2008–present
Consultant gynecologist and RCOG subspecialist in reproductive medicine and surgery, 2004–present
Worked as a consultant for the NHS and private sector for 18 years at Bourn Hall, Colchester, The Bridge Centre in London, The London Fertility Clinic, and CARE London
Youngest medical director of an IVF unit in the UK when appointed at the Homerton Foundation University NHS Hospital Trust, London, UK, 2005
Qualified forensic medical officer trained in the assessment and care of victims of sexual assault
Advanced laparoscopic surgeon (MAS level 2) and certified aesthetic gynecologist
Authored numerous published articles on the topics of assisted reproduction, ovarian and testicular cryopreservation, ovarian transplantation, thyroid dysfunction
Regular contributor to television, radio, newspaper, and magazine articles
Member of the Royal College of Obstetricians and Gynaecologists since 1996 and awarded fellowship in 2020
Education
Fertility training with Lord Sir Robert Winston at Hammersmith Hospital, London, Professor Adam Balen at Leeds General Infirmary, and Dr. Peter Brinsden at Bourn Hall/Addenbrookes Hospital, Cambridge, UK
Master's degree from the University of Leeds, UK, 2004
Residency training in obstetrics and gynecology with the Royal College of Obstetricians and Gynaecologists, London, UK
Medical degree from Queen's University, Belfast, Ireland, training in general medicine and surgery, endocrinology, and old age medicine, 1991
Featured Publications
"Successful pregnancy in a woman previously suffering from β-thalassemia following transplantation of ovarian tissue cryopreserved before puberty." Minerva Obstetrics and Gynecology, vol. 70, no. 4, Aug. 2018, pp. 432–435, doi: 10.23736/S0026-4784.18.04240-5.
"No association between smoking and the presence of tobacco-specific nitrosamine metabolites in ovarian follicular fluid." Cancer Epidemiology, Biomarkers & Prevention, vol. 11, no. 3, Mar. 2002, pp. 321–2.
"Paediatric telephone triage and advice: the demand continues." The Medical Journal of Australia, vol. 180, no. 7, 5 Apr. 2004, pp. 333–5, doi: 10.5694/j.1326-5377.2004.tb05968.x.
My Journey in Medicine
I became passionate about women's health from the day I started undergraduate training in obstetrics and gynecology. Every day since then, I have loved my job of helping women. My mother had gynecological problems, and I saw the distress it caused. Her experience inspires me to help as many women as I can lead healthy lives.
I am proud to look after 3 generations of women in some families. I see women through period problems in adolescence, advise them on contraception, care for them as they get pregnant and want to build their family, and ensure they stay well through the changes of menopause.
I am a mother and was a single mum to my 2 children for the first 8 years of their lives. I appreciate many of the issues that women have with relationships and children and how that becomes entwined with their health. It's a wonderful feeling to know that my patients trust me and feel comfortable sharing any problems they're dealing with, safe in the knowledge that respect and confidentiality will always be maintained.
A surgeon by nature, I'm also very interested in the combination of research and medical challenges that are all a part of gynecology and fertility management in particular. I push boundaries when possible, and in 2019, I was responsible for the first baby born worldwide who was conceived after transplanting frozen prepubertal ovarian tissue. Advocating for improvement in women's health care in the UK is a major passion of mine, and I am also very much involved in promoting safe hormone replacement therapy for women in menopause.
No matter what age, all women need a gynecologist. I strive to provide the best care possible for all my patients and welcome any opportunity to educate women and help however I can. So, I'm so excited to have the opportunity to touch even more lives through my collaboration with Flo.
Flo Advisory Board of 100+ Doctors, Scientists, and Health Experts
We break down complex medical topics into accessible and digestible information that empowers readers to take action and prioritize their own well-being. Our team of Medical and Scientific Advisors is made up of over 100 certified health experts from a variety of disciplines who ensure that every piece of content we release is medically accurate, understandable, and up-to-date with the latest scientific findings. We rely on medical guidelines from international health organizations and get information from academic institutions and peer-reviewed articles, which is fully described in our Flo Editorial Process and Standards.