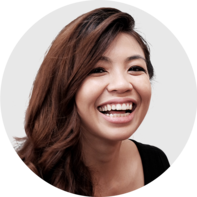 Sara Tang
Sex coach and educator, China
Work Experience: 10+ years in sex education
"What really lights me up is working with people who've had a limited sex education or a culturally conservative upbringing because that's what I experienced myself; it's what motivated me to pursue sex coaching. I believe that sex is a skill and everyone can learn how to be better in bed."
Career Highlights
Founder of Sarasense, private sex coaching practice
Host of the "Better in Bed" podcast, the first sex podcast in Asia, featured by Esquire as one of the best sex podcasts, 2018–2020
Founder of Passionately Yours, a sex toy and sexual wellness boutique, 2011–2015
Certified Sex Coach with the World Association of Sex Coaches
Education
Graduate of Sex Coach U, 2019
Bachelor of Arts in Human Sexuality from Stanford University, Palo Alto, CA
My Journey in Sex Therapy
I don't know if I chose my profession or it chose me. I grew up extremely religious and repressed in Asia, made many mistakes in my sexual journey, and failed in relationships before I realized I never learned the tools or skills for having meaningful sex and intimacy. That set me off on my path of discovery.
My start into the exciting world of sexuality was through my education at Stanford University. Following graduation, I became an erotica writer and researcher before founding a sex toy boutique. More than selling sex toys, I wanted to provide people with the information and inspiration they needed to lead more pleasurable, passionate lives. To that end, I also delivered workshops and events to hundreds of women curious to discover more about their sexuality in a safe, intimate space.
Now I offer private sex coaching online to people around the globe. We work through various issues in the bedroom, like painful sex, poor body image, and overcoming shame and inhibitions. In my sessions, I provide actionable tips to help my clients build skills to deepen intimacy and restore both passion and playfulness in their love lives.
Beyond my coaching practice, I enjoy spreading sex-positive information and practical strategies to people everywhere through my blog, sarasense.com/blog, Instagram channel, @hellosarasense, and podcast, "Better in Bed." I also recently launched my first online course, "Talking About Sex Made Easy," to teach people to confidently communicate about sex without the awkwardness.
Because I'm passionate about sharing empowering knowledge through accessible, digital platforms, it's a true pleasure to have the chance to support Flo with sexuality content. I aim to help Flo's users form a positive mindset about sex so they can become erotically free and adventurous in exploring their sexuality.
Flo Advisory Board of 100+ Doctors, Scientists, and Health Experts
We break down complex medical topics into accessible and digestible information that empowers readers to take action and prioritize their own well-being. Our team of Medical and Scientific Advisors is made up of over 100 certified health experts from a variety of disciplines who ensure that every piece of content we release is medically accurate, understandable, and up-to-date with the latest scientific findings. We rely on medical guidelines from international health organizations and get information from academic institutions and peer-reviewed articles, which is fully described in our Flo Editorial Process and Standards.