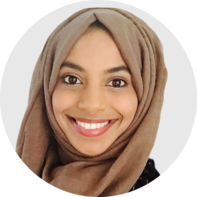 Dr. Sayyada Mawji
General practitioner, UK
Work Experience: 5+ years in internal and family medicine
"I am driven by my passion for ensuring that everyone around the world has access to safe and accessible health care and equipping the general public with correct and factual medical information."
Career Highlights
General practitioner/family physician, London, UK, 2019–present
Hospital doctor in accident and emergency, general surgery, care of the elderly, breast surgery, general medicine, palliative care, public health, stroke medicine, psychiatry, and family medicine, 2013–2019
Health expert panelist for Women's Health magazine, 2021–present
Media doctor, educator, and content creator for various media platforms, including BBC News, Marie Claire, and NHS health campaigns, 2020–present
International head of relief for global nonprofit Who Is Hussain, London, UK, 2015–present
Provider of humanitarian medical aid, medical education, and training, Doctors Worldwide, Stockport, UK, 2018–present
Winner of the Professional Woman Award, 2021, and Zenith Global Health Award; finalist for the Ibn Sina Award for Excellence in Health; named as one of nine Female Changemakers for online health advocacy work by Women's Health UK
Education
Diploma in the Medical Care of Catastrophes from the Worshipful Society of Apothecaries, UK, 2019
General practice training (MRCGP) at the Royal Free London NHS Foundation Trust, UK, 2016–2019
Bachelor of Medicine and Surgery (MBChB) from the University of Leicester, UK, 2008–2013
My Journey in Medicine
I chose to specialize in family medicine as I enjoy working with people of all ages — from children to the elderly — and the wide variety that my daily work offers. After completing my medical degree, I pursued postgraduate studies in conflict and catastrophe medicine. I am passionate about providing quality medical care to underserved communities and have worked in and established medical clinics and facilities in refugee camps in Iraq, Bangladesh, and Greece.
In addition to my humanitarian work, I raise awareness about important health topics and educate the public via digital platforms. Over the last few years, I have become a trusted voice on medicine in the media and have contributed to well-known outlets, including the BBC, Women's Health, the Metro, Daily Express, and Marie Claire. I've also worked with the NHS on public health campaigns and delivered a TEDx talk.
I am excited to be on the expert board at Flo and to educate and empower people worldwide through this fantastic healthtech platform!
Fun Facts
I enjoy spending time with my family and beautiful baby girl. Together, we love exploring the outdoors and traveling.
Flo Advisory Board of 100+ Doctors, Scientists, and Health Experts
We break down complex medical topics into accessible and digestible information that empowers readers to take action and prioritize their own well-being. Our team of Medical and Scientific Advisors is made up of over 100 certified health experts from a variety of disciplines who ensure that every piece of content we release is medically accurate, understandable, and up-to-date with the latest scientific findings. We rely on medical guidelines from international health organizations and get information from academic institutions and peer-reviewed articles, which is fully described in our Flo Editorial Process and Standards.