Written by S. Nicole Lane
Sex toys are no longer something that you hide in the back of your underwear drawer. In fact, statistics published in the Journal of Sex and Marital Theory show that 52.5% of women in the United States now use some kind of vibrator — and for good reason.
Sex toys can enhance intimacy between you and a partner and, more importantly, open up a conversation about how you want to give or receive pleasure. Exploring what brings you pleasure isn't just fun; it's good for you. Let's not forget that when you orgasm, your brain releases serotonin and dopamine, giving that rush of satisfaction and pleasure.
But finding the right sex toy can be tricky, particularly for couples where both partners have vulvas and might not want to use the traditional phallic options that lots of sex toy companies offer. Luckily, there are plenty of options out there. From finger extenders to suction clitoral stimulators and double-ended dildos, there are so many partnered sex toys designed with lesbians with vulvas (and LGBTQ+ people in general) in mind.
Throughout this guide, these toys are referred to as "lesbian sex toys," but they can be used by anyone with a vulva, regardless of your sexuality and gender identity. If you have a vulva, then this is for you.
Rachel Wright, MA, LMFT, a sex and relationship therapist based in New York City, refers to sex toys as "pleasure aids." Some toys are more playful, while others hone in on a specific need, want, and desire. She says: "Bringing an aid or toy into a sexual experience can absolutely (and most of the time in my experience) bring those folks closer together because it switches things up and requires communication between the people involved."
Just remember sex toy safety to prevent transferring sexually transmitted infections (STIs) and other infections. That means using barrier protection methods (like condoms and dental dams) with toys just like you would with genitalia, disinfecting them before and after use, and never using them both vaginally and anally. You can read all about having safer sex as an LGBTQ+ person right here.
If you're unsure of where to start when it comes to sex toys or just want a better idea of the kind of toys that are designed with women and people with vulvas in mind, Flo has you covered with our lesbian sex toy guide.
Traditionally, sex toys for people with vulvas have been designed to look and feel like penises. This poses an issue for LGBTQ+ people and couples who don't want to use phallic pleasure aids for whatever reason.
"One of the fears (and myths) of sex toys is that the toy is a 'replacement' for their actual human partner," Wright explains. "While we know this isn't true — the truth is that a sex toy does things that the human body cannot like vibrating at a high frequency for extended periods of time — it can still feel threatening. Making something not look like a penis or a vulva or vagina can help ease this feeling of being replaced."
Thankfully, new LGBTQ+-inclusive sex toy companies are setting up shop online and in real life to target the full spectrum of the community. And they're behind the recent surge in non-anatomical sex toys hitting the market that, quite simply, do not look like real body parts.
Beyond shape and size, there is also the distinction of toy color. Not everyone wants their toys in gendered pastel shades. There's also been a move towards more distinct sex toy themes. If fantasy dildos are more your thing then there's a recent trend in dildos that look like tentacles and unicorn horns. In the wide world of sex toys, there's something out there for just about everyone.
Penetration-free vibrators that focus on the clitoris are incredible for women and people with vulvas who want to incorporate fingering or anal play while including a vibration on the clitoris. On average, 37% of women in the United States need clitoral stimulation to achieve an orgasm during intercourse, according to a 2017 study published in the Journal of Sex and Marital Therapy. And four out of five said they couldn't climax through vaginal penetration alone.
No wonder the most commonly owned sex toy globally is the vibrator. The size, shape, and intensity of vibrators can vary. You can use them by yourself or with a partner. They can come in the form of small bullet vibrators, massage wands that can be bigger, and vibrators that you can wear or attach to other sex toys.
If you're not sure where to start, a wand may be a good choice. The old-fashioned wand-style has been rebranded and upgraded by several new companies with a sleeker (but roughly the same size) look. Or you could try a vibrator with a suction function. Rather than vibrating against the clitoris and vulva, they have more of a pulsing sensation, which can mimic the feeling of oral sex.
In a long-distance relationship? Other toys can be used remotely via an app or remote control. This means that your partner will be able to control the pattern and intensity of the sex toy, and you can give and receive pleasure even when you're not in the same room (or house).
It's all about figuring out what's right for you. Whether you choose a suction vibrator or double-ended dildo, Wright has this great tip for introducing sex toys to the conversation for the first time: Ask for a container to have the conversation in. Don't just ambush them while they're emptying the dishwasher.
Like vibrators, dildos come in all different shapes, colors, sizes, and functionalities. They can be made of glass, silicone, Lucite, or metal and are designed to be used during penetrative sex. And, as mentioned above, while you can buy dildos that look like penises (in flesh tones and with veins), this isn't your only option.
Pulsators or thrusting dildos mimic the motion of vaginal or anal sex, while other dildos feature vibrators that can stimulate your clitoris during penetration (such as a rabbit).
Alternatively, if you'd like to use a dildo with a partner and want to keep your hands free, you can put it in a harness and wear it as a strap-on. Depending on the type of harness you buy, you'll either be able to pleasure your partner or use a double-ended dildo to give and receive pleasure at the same time.
Some double-ended dildos feature a "bulb" that fits into the vagina with a longer area that can be put inside a partner to create a union, making it easy to get intimate. You can also add a clitoral stimulator or butt plug for extra enjoyment.
If you're unsure what kind of toy would be right for you and your partner, then you can ask the assistant at your local sex shop or speak to friends within the community about the places they get their toys.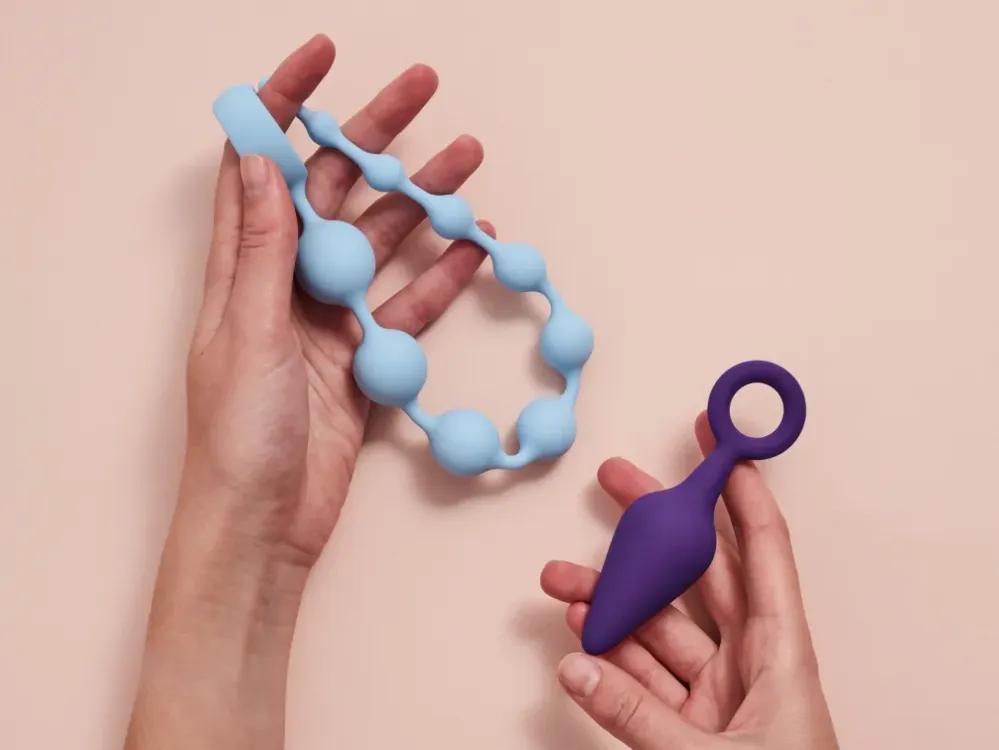 When you think of anal sex toys, a tapered butt plug probably comes to mind. However, there's a lot of scope for choice when it comes to anal play.
Many plugs have a ring or flat base — and for good reason. Unlike the vulva and cervix, the anus doesn't have a natural stopping point, so the base will ensure that the toy doesn't pass up your sphincter (the muscle that tenses and relaxes to close and open your anal passage) during use. That's also why butt plugs come in a variety of sizes, and it's recommended that you start small and work your way up to a size that feels comfortable. You can also buy butt plugs that vibrate.
Playing with the anus is great because it can be stimulated alongside any clitoral, vaginal, or vulva play. Looking for other options? Anal beads look like a number of spheres attached together. They can be tapered, are longer and more flexible than a plug, and are designed to provide pleasure when you insert and remove them.
Similarly, you can buy a dildo specifically for anal play. Some toys are molded to the shape of an anal canal, which may make anal sex more comfortable. To remain safe and hygienic, you shouldn't use the same dildo for multiple sex acts without disinfecting it first.
If you are shopping for something to use with your partner, it can be a great idea to visit a sex shop together or shop online when you're with your partner. Wright agrees and suggests, "Whether you purchase a toy/aid online or go into a store, it's a fun, exciting, and bonding experience." This may also give you the chance to speak openly about what you enjoy and what you might want to do more with your partner.
While shopping you should look for toys that are either 100% silicone, tempered glass, hard plastic, and stainless steel. These materials are body-safe and typically last longer than toys made of other materials, which can contain ingredients that irritate the skin and harbor bacteria. Again, remember to use sex toys safely by disinfecting them before and after each use, never using a toy both vaginally and anally, and adding barrier methods of protection to prevent STIs.
And Wright says, "not everyone wants a spicy sex life. Some folks are on the asexual spectrum, and some are really happy with a more 'vanilla' sex life." Wright suggests that if folks want to feel more connected or fulfilled together, they can have a conversation that starts there.